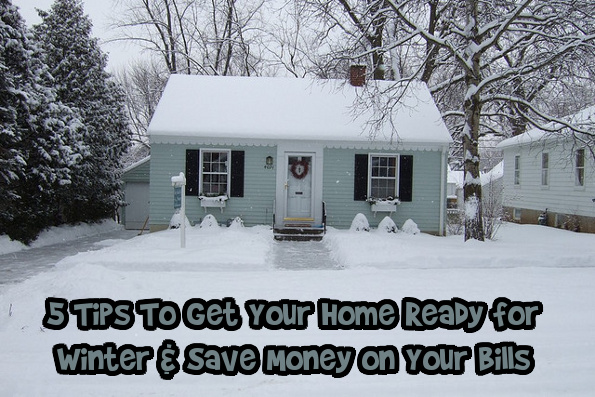 As the days get colder and shorter, denial that summer is really over and the cold winters are inevitably going to arrive reminds us to be prepared to winterize our homes. Just as you would save money by winterizing your car, you can also winterize your home to keep those electricity or heating bills down. Here are five tips to get your home winter ready to save money on those dreaded winter bills.
Find Those Leaks
It is important to find obvious leaks in your home (check the windows and doors of your home). To do this, you could turn out your lights during the day. If you see light shining through the edges of your door, you should weather-strip the edges to prevent heat loss. Weather stripping is economical, usually $7 covers enough for two doors. They sell them at Dollarama for $2 as well.
In addition, you could also use an incense stick to check for leaks. If you see the smoke of the incense stick moving more quickly in certain areas and you suspect an air leak, you can be pretty certain air is coming in with the incense stick trick. The U.S. Department of Energy has detailed tips on how to visually inspect and detect air leaks, in addition to how to repair them.
Door sweeps (they look like long plush snakes) are a great way to block drafts coming in from your doors. You can also make them yourself easily if you're crafty. Otherwise, they cost about $7 at the home hardware store.
Insulate those Windows
If you don't already have double glazed windows (these insulate better than older windows), you could try to reduce heat loss by insulating your drafty windows.
Insulating your windows is very easy (and kind of fun). All you need is a blow dryer and some window insulation. You can buy window insulation at any home hardware store. It usually costs around $5-6 for large sheets that you can cut yourself to fit the windows.
Apartment Therapy has some different ways to insulate your drafty windows for the winter.
Cover the Holes
Do a quick walk around your home to look for any holes or cracks in your roof, or more easily, go into your attic and see if there are any holes. In older homes, this can be very common. Not only is your heat escaping through these leaks, unwanted critters like squirrels and rats may find solace in your attic for the winter.
Clean Out the Gutters
Although it's not a very fun job (or safe job if you're scared of heights), cleaning out the gutters is a necessity. Clogged gutters can cause leaks, water pools near your home that can seep into the basement and cause some serious water damage. If you live in a colder climate, frozen ice chucks in your gutters can cause damage. Hometips.com has some great easy-to-read tips on how to clean your gutters and prepare them for winter.
Although clearing your gutters doesn't necessarily translate to saved heating costs, it does translate to big emergency costs (e.g. like water damage in the basement) that you might not be prepared to have.
Get a Programmable Thermostat
Probably one of the easiest ways to winterize your home (and you only need to do this once) is to install programmable thermostats. For those who forget to turn the thermostat down when you leave the room (or for those who want to wake up to a warm room when they walk into the kitchen), this is a great way to lower your heating bills. Turning the temperature down by just 15 degrees can save you 5-15% on your heating bill (source: Energy.gov). Many programmable thermostats have Monday to Friday programming and weekend programming to allow for variation.
If you want to be really thorough throughout the four seasons, the Canada Mortgage and Housing Corporation has a handy home maintenance schedule checklist for you to go through.
Finally, if you're not into check lists and would rather visualize the winterizing you need to do, CBC has a great interactive "house map" that reminds you of the different areas of your home that you need to remember to winterize.
Bargainmoosers, do you have any other tips on prepping your home for the winter to save money?
Photo Credit (bochalla)