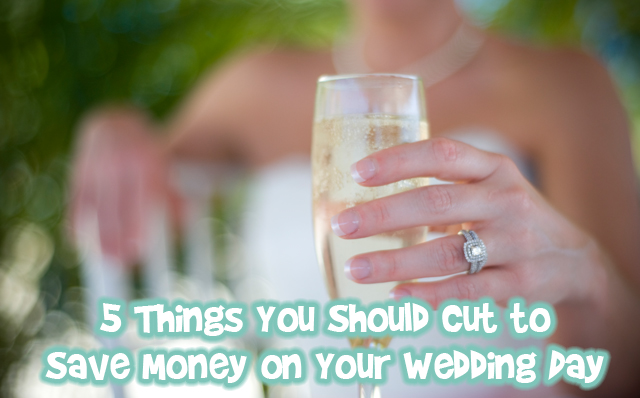 Weddings are expensive, that's a no-brainer. But if you want to avoid spending your down payment for a house on a one-day event, then you really only have two options: elope, or start cutting things from your wedding wish list. If you are anything like me and have always dreamt of having a rather traditional wedding, then going to the courthouse or jetting off to Las Vegas may not be your cup of tea. But that doesn't mean you can't have the wedding you want for the price you want too. It just means you may have to make a few sacrifices here and there to keep your budget in check.
The Designer Gown
If you've ever seen the TV show Say Yes to Dress, then you know that if you want a designer gown you've got to be prepared to fork over $5,000 and up for some glitz and glam. Listen, I whole-heartedly believe that a wedding dress is one of the most important articles of clothing you'll ever wear in your life, but let's be serious, you're only going to be wearing the darned thing for 12 hours or less. Instead, you can get an equally beautiful dress minus the steep price tag by shopping online or visiting a discount bridal boutique. It may not have Pnina Tornai on the label, but who is going to ask you "Who are you wearing?" on your wedding day anyways?
The Guestlist
Have you ever had that nightmare of walking down the aisle and seeing a bunch of empty pews? That's not a nightmare, that's a blessing! More people equals more money you have to spend, so start crossing off names until all you're left with is a list of people you couldn't imagine not sharing your special day with. If you're afraid of offending anyone, invite them to just the ceremony and make the reception for close family and friends only.
The Open Bar
If you can afford it, do it! If not, you can still make sure everyone has enough to drink without having to sell a kidney after your nuptials by going with one of these three options. Firstly, if you really want to save yourself from a hefty bar bill at the end of the night, have a cash bar instead. You may hear a few complaints from your red nosed uncle, but you'll be all the richer for it. Secondly, you can give out drink tickets to everyone then once those tickets are used up guests need to pay for any additional drinks themselves. Lastly, you can have a subsidized bar in which you give your venue a certain amount of money to put towards liquor, and once that limit has been reached it turns into a cash bar. This gives guests the illusion of an open bar without leaving you broke the next day.
The Formal Rehearsal Dinner
If you're having your wedding rehearsal on a weeknight or in a part of town that's far away, it's a nice gesture to feed all of the people involved afterwards. That being said, instead of spending hundreds of dollars on a formal sit-down dinner, you can save a lot of money by hosting a more casual event instead. The best way to do this is to have it at someone's house, put out some drinks and appetizers, and if it's the season for it, turn on that BBQ and start grillin'!
The Wedding Announcement
With free platforms like Facebook, Twitter, and Instagram, there really isn't a need to shell out a hundred bucks or more for a marriage announcement in your local newspaper. Sure, it's a nice ideo and your grandparents might like to clip it from their paper and hold onto it as a keepsake, but if you're looking to stretch your budget, there are more important things you could spend that money on.
Bargainmoosers, what other things should you cut from your wedding to save money?
(Image credit: scottsnyde)