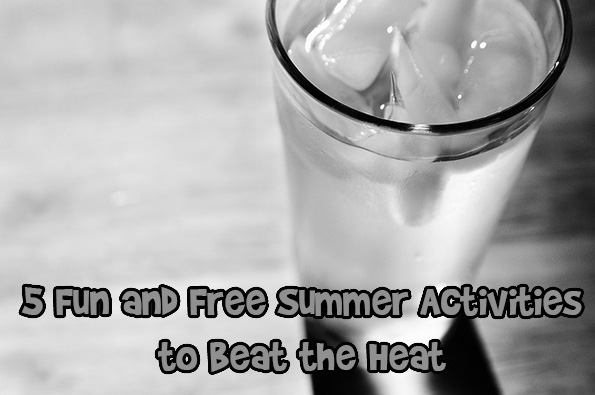 Thankfully we have survived the winter and soggy spring (in some parts of Canada at least) and are now well into summer.  Summer is a great time, because everyone is in a good mood, but sometimes it can be stressful because we all try and pack a gazillion activities into two months.  Because of all these fun activities, plans and vacations, summer can also be expensive.
In addition, summer can be very hot (which is a good thing of course lol), but sometimes family (especially younger members of the family) don't always appreciate the heat.
Here are five fun and free summer activities that will help you and your family beat the heat.
Nerd it up at the Library
Free air conditioning, forced quietness, free internet... what more can you ask for?  A lot of cities and towns have a summer reading club program for children.  For example, in British Columbia, the summer reading club encompasses a passbook where children can record the books they read.  This goal setting makes reading fun for your children, unless of course they already think reading is fun, which is awesome!
Go for a Hike in the Woods
If you have younger children and are fortunate enough to live near a forest, take a hike in the woods.  It's free, cool, and a great opportunity to teach your children about nature and respect for nature.
If you have older children, some of these hikes have a provincial or federal park trail fee, but these are hikes of a lifetime and great bonding experience activities with your older teenage children.  About.com has a great list of hikes across Canada that are trips of a lifetime.  The West Coast trail, the East Coast trail and other hikes all highlight the beauty of Canada.  The West Coast Trail is a grueling 75km hike on the rugged coast of Vancouver Island.  It is an adventure of a lifetime complete with ladders, pulley systems across rivers, and whale sightings.
Camp in your Backyard
Have a stakeout in your own backyard.  Sometimes camping in your own backyard can be more fun than camping in the outdoors because you have the security of knowing that you are safe, that food is easily reachable (just walk into the kitchen lol), and that you get to sleep in your comfortable bed the next day.  Why not mix a bit of technology with nature?  Mashable has a great list of the Top 10 apps for stargazers.  However, some of these aren't free.  One of the most popular star gazing apps costs $2.99. You won't have to ever wonder if what you are looking at is the little dipper anymore, a bit of luxury that we never had when we were growing up.
Picnic in the Park
Picnics are a great way to relax.  Just find a park, find a shady tree, and plop down.  The Serious Eats blog has a great list of recipe ideas for your picnic.  Some ideas are cheese and sesame flat breads, three melon salad with mint, and mini pulled pork empanadas.  Delish.com has some great tips on how to keep that ice-chest cool throughout the day so it can keep your food and refreshing beverages cool.
Scope out Free Admissions
Summer is the best time to take advantage of free activities.  Wallet Pop Canada has a secret trick on how to get free or almost free museum admissions across Canada (660+ museums and counting).  You can do this by joining the North America Reciprocal Museum Association for your family.  Also, if you are a member of the Canadian Association of Science Centre (CASC), you can get free admission to many science centres across Canada.
Of course, if you Google "free activities" in your city or town, you're bound to find some fun and free activities as well.
As you can see, there are plenty of ways to enjoy summer and beat the heat with your family without having to spend a ton of money. Summer is a fantastic time, and creating new memories with your loved ones is what summer's all about.  Have a great summer!
Bargainmoosers, do you have other fun and free ways you beat the heat with your family?
(banner credit: StuffNThings)