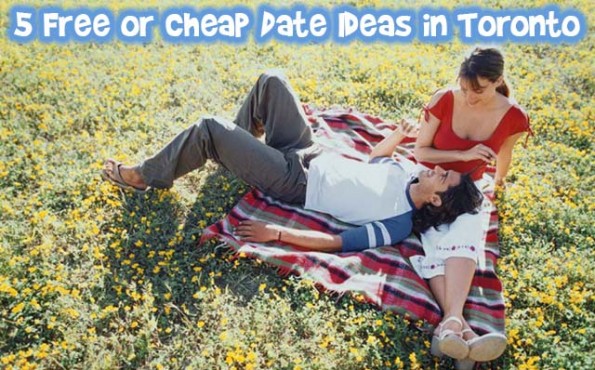 As the snow begins to melt and the temperatures continue to rise above zero, soon there won't be any excuse for hibernating indoors. Spring is the time to get back outside and show your loved one or crush some fun on the town! To make sure you don't stretch your purse strings too far, here are a few free or cheap date ideas you and your date can try out in the Toronto area. Enjoy!
1. Check out a TV show's live taping
This is something I think everyone needs to experience at least once. When my husband and I were in California for our honeymoon we made sure to get to tickets to a live taping of a TV show while we were there. Not only was it really cool to see how they taped the show, but the whole experience was absolutely free! The only stipulations are tickets can sometimes be first-come first-served so you'll need to arrive at the studio well in advance, or the show will book their audiences a few months prior. For a fun date in Toronto, you can be an audience member on Cityline, George Stroumboulopoulos Tonight, and many more shows as listed on Saving Kathy's awesome blog.
2. Do a brewery tour
Obviously only decide to go on a brewery tour if you or your date are big beer fans, but if you do decide to go, a tour around the Steamwhistle Brewery in Toronto is a great choice. You only need to book you tour 12 hours in advance and the cost will only be $10, $15, or $26 depending on what souvenir you'd like to take home. If you and your special someone are more craft beer connoisseurs, then a tour around the Amsterdam Brewery might be more up your alley. Tours are free, but they only run on Saturdays between 1-5pm on a first-come first-served basis. However, you can contact the brewery to enquire about booking a special private tour on either a Tuesday or Thursday evening as well.
3. Visit the Royal Ontario Museum
A great way to stir up some conversation with your date, if you visit the Royal Ontario Museum in downtown Toronto you can save some major cash by going on a Friday from 4:30pm – 8:30pm. Regular adult ticket prices are $16, but they are reduced to $10 on Fridays.
4. Spice it up at a cooking class
The Ontario grocery chain Longos offers a variety of cooking classes ranging from $10 - $35 per class. Not only do you get to learn how to make some delicious dishes from some of Toronto's top chefs, you get to eat everything you make too!
5. Laugh 'til you cry at The Second City
If you want to do something really outside the box on your next date, go to one of The Second City's drop-in improv classes! They take place every Monday from 6pm – 8pm and it will only set you and your partner back $15 each. If you're more comfortable being in the audience as opposed to on-stage, you can buy discounted tickets for these hilarious shows if you go as a group of 15 or more, or if you're a student, or if you buy tickets for non-weekend performances.
Bargainmoosers, if you live in the Toronto area, what other free or cheap date ideas can you suggest to do around town?
(Image: ekelly89)