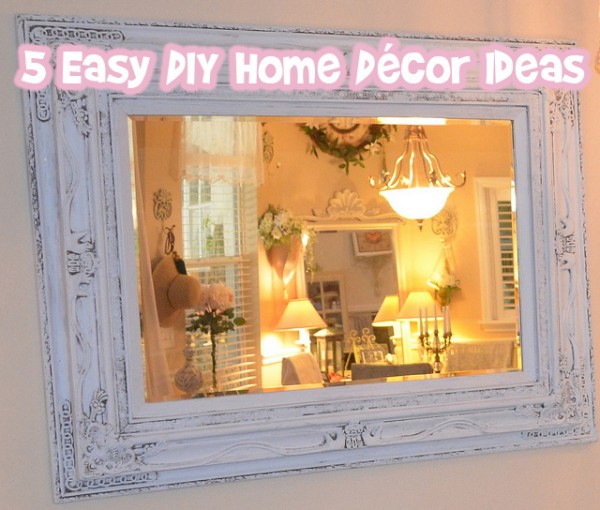 Now that fall is here and the temperature outside is steadily dropping, for the next few (or many) months you will notice yourself spending more and more time inside your home. Although you may have taken on a few home improvement projects during the summer, what better time is there than fall to focus on doing a bit of home décor upgrading? After scanning what's new on Pinterest, and checking out a few of my favourite do-it-yourself craft blogs, I've put together a list of the top 5 easy, fun, and cheap home décor projects you may want to try out on one of the many cold and rainy days to come.
1. Tape Sponge Lamp
This is by far one of my all time favourite homemade home décor pieces courtesy of Design Sponge. Not only does it look like it was once part of a coral reef, but it is made entirely of rolled up pieces of masking tape! Besides a lot of time and patience, I couldn't imagine this lamp would require more than a few dollars to make.

2. Homemade Air Freshener
I found this recipe on Delightful Country Cookin's blog, and it wasn't just the practicality of these do-it-yourself air fresheners that caught my attention. The recipe is easy and cheap to execute, and after putting the concoction in a few dollar store vases, they serve as a unique way to add a pop of colour and fragrance anywhere in your home.

3. Doormat Wall Art
When I first stumbled upon this amazing wall art piece, the first thing that came to my mind was "Hey, that's my doormat!". I bought it for cheap at Home Depot a few year's back, but I certainly never thought of putting a bit of paint on it and hanging it on my wall. I've got to hand it to Kate at Salvage Dior for really thinking outside the box.

4. Beer Bottle Vase
No matter how many times I take out the recycling, I find that there are always a few empty soda, juice, or beer bottles scattered around my apartment. Instead of just dumping them into the recycling bin outside, I think I might try to upcycle them into some chic flower vases via The Colorful Living Project for a change. It's amazing what a little spray paint can do.

5. Dollar Store Cake Stand
Last but not least, there are these dollar store cake stands from Craft Addiction's website. All you need is a tart pan, candle holder, glue or instant-tac, a bit of spray paint, et voila! In case you aren't in the routine of constantly baking cakes, these stands could be used to display books, houseplants, even your lounging cat. The possibilities are endless!

Bargainmoosers, what DIY home décor projects are you going to tackle this fall?

(Image credit: bellafaye8)