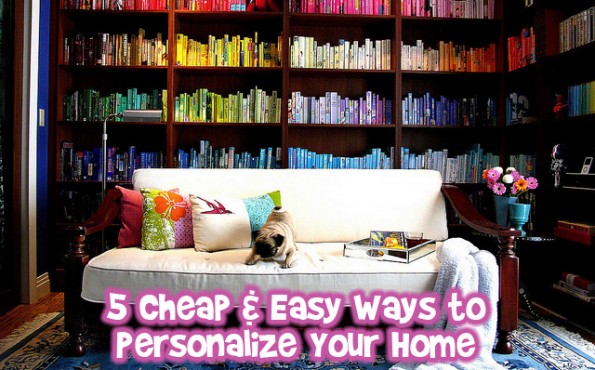 This past weekend my husband and I moved into our very own apartment after living in a sublet for the past two months. Since we moved all the way from Vancouver to Toronto and didn't bring any furniture with us, we have a lot of homewares to buy. Living away from home and having to furnish an entire apartment from scratch sure isn't easy or cheap. In order to make our new home truly ours while working within a limited budget, I'm planning on crafting a number of personal touches myself, instead of buying anything from a furniture or home décor store. Here are a few thrifty ideas I plan on DIYing to personalize our new home for less.
Sentimental Wood Signs

I love the idea of hanging a wooden sign in your home displaying a sentimental quote or message on it. What I especially love about it is how simple and cheap it is to make. All you need is some paint from the craft store, an alphabet stencil which you can download for free online, and a few pieces of wood. A project like this shouldn't cost you any more than $20 to complete. Thanks to Home by Ally for the inspiration!
Bookworm Planters

I am a complete bookworm at heart, so when I stumbled upon Petite Planet's blog featuring these book planters, I knew I needed to have these in my home. Besides buying a few plants from your local garden centre, you just need a few hardcover books from either your personal library or from the thrift store, some white glue, and an X-acto knife. I haven't yet attempted to hollow out a book, so in case any of you want to make these book planters too, I found some instructions on how to do so here. 
Personalized Nesting Tables

Whenever I go to IKEA I always see these nesting tables on sale for cheap, but I can never get past how much the design screams, "This is from IKEA!" Luckily, the ladies at A Beautiful Mess have an amazing solution for this, which involves an extra large photo on semi-gloss photo paper, some ModPodge, and some paint and primer. What a great way to display your painting skills and one of your best photographic moments.
Creative Coasters

One thing that is still on my list of things to get is a set of coasters. Of course I don't want to get just any old coasters, I want a set that can also be a conversation piece at a gathering or dinner party. I love the coaster idea posted on Creative Girl Dreams' blog, and not just because she mentions how inexpensive it was for her to make. All you need is a few small square tiles, some scrapbook paper, ModPodge, a foam brush, clear paint, and an X-acto knife. If you are an aspiring sommelier like me, then these wine cork coasters may also be to your liking. Just remember that not all wine corks are made of real cork anymore. Also, don't attempt to collect all of your corks in one night unless you plan on having a wine tasting with a large group.
Staircase 

Last but not least, what better way to personalize your run-of-the-mill staircase but to write words of inspiration on each step? It's an easy-to-do personal touch for your home, and sure would make taking the stairs that much more enjoyable.
Bargainmoosers, what personal touches have you made to make your home uniquely your own?
(Image credit: ...love Magean)