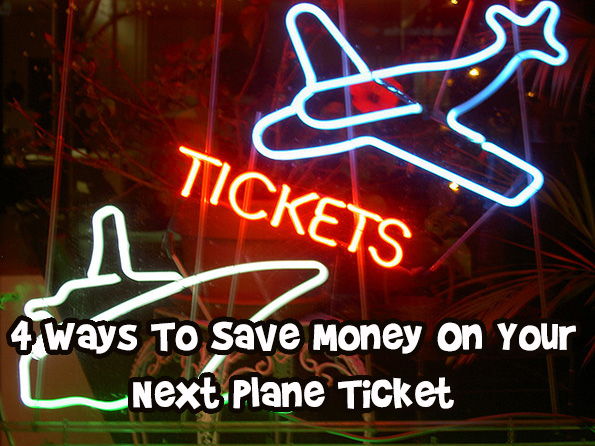 Plane tickets can be expensive and unpredictable.  Sometimes you may feel like you are never getting the best price or the best deal on your flight.  Sometimes you may not be sure what the usual cost is for that flight route.  Adding fuel surcharges and airport taxes into the airline ticket doesn't help things any, either!
Here are a four ways to help you save money on your next plane ticket, if you haven't considered them already.
Avoid Booking Fees
Be cautious about booking fees, especially if you prefer to book your flights in person or over the phone.  They may charge you a $20 to $40 booking fee just for speaking to a real-live person instead of clicking a button or two on the Internet.  At Flight Centre, they charge booking fees, but if you have a credit through booking with them from previous trips (they give a $25 credit for every $500 you spend through them, I believe), they can omit the booking fees.  Instead of booking over the phone with an airline directly or visiting a travel agent, for the past few years I have booked through Kayak.com for my flights.  Kayak.com is a flight aggregator and can find the flights available for your destinations, allowing you to take all the time you want to research without the pressure of a live person.  Just make sure you clear your cookies on your computer because the flight prices may increase if they figure out you are constantly looking at that flight option.
Try Google Flights
Google Flights is a new interface and flight search option recently introduced to me by friends. I am surprised that Google has not done more advertising for this, because it is pretty amazing.  Although you can't directly book on Google Flights, you will be redirected to book on, let's say West Jet for example, when you choose the flight itinerary offered by Google.  It is exceptionally, ridiculously fast and super efficient.  The best thing about Google Flights is that there is a visual bar graph chart where you can see how the price differs between the days that you indicate.  I use it as a great second opinion search engine to Kayak.com. PC magazine recently did a review on Google Flights and also concurs to using it as this option.
Flight Hub for Multi-leg Trips
I recently discovered this tool after talking to my friends who were able to find a great flight from Alberta to Hawaii and then to Vancouver Island and back to Alberta, for their December holiday trip.  They saved a considerable amount of money booking through Flight Hub and found the process fine, as long as you don't change any of your flights and are able to accommodate to the flights offered.  Although they had to go through three different airline carriers (Air Canada, West Jet, and Alaska Airlines) they were able to save at least 30% off the flight.  According to the Flight Hub website, they promise to save you up to 80% off your flight.
Flight Hub is great for multiple leg option trips, where you are open to using different airlines to get to your destination.  If you are not adverse to connecting flights (which there may very well be with so many options on your trip itinerary), Consumer Reports recommends that if you opt for a connecting flight instead of a direct flight, you can also save money. If you want some more information on Flight Hub, the TripAdvisor forum has a great thread about them.
Think about Change Fees
Huffington Post recommends that if you are not 100% sure of your flight schedule, it may be best to do some research on the airline carriers that charge the least penalty or are the most flexible if you were to change your mind.  A refundable ticket may be more expensive, but may be the more economical option in the long run if you are not completely sure about your travel itinerary.
For my next trip, I will definitely be using my usual Kayak.com search engine strategy and will also add Google Flights and Flight Hub in my search.  Nothing beats knowing that you are getting a great deal on your flight, especially if you don't have enough airline points for your trip!
Bargainmoosers, do you have other cheap airfare tips you want to share?
(banner image credit: Dan4th Nicholas)