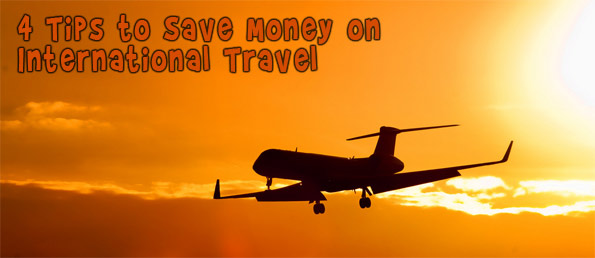 Many people don't bother with international travel because they think that it is expensive.  However, this is usually not the case.  There are ways to save on international travel, because once you reach the destination, the food, lodging, and activities are usually relatively cheap.  Case in point.  I traveled across Northern India for a month and spent $250.  True, the flight cost me $1500 at the time, but I got to see the Taj Mahal, float in a small boat on the Ganges river, see where Mother Teresa devoted her time, and visit the tea estates of Darjeeling for under $10 a day.  These were unforgettable and life enriching experiences that gave me wonderful memories that I will remember for the rest of my life. Also, knowing that the the trip didn't totally break the bank really made the trip worth it.
Here are four tips on how to save money on international travel:
Plan Ahead
Planning ahead can save you a lot of time, money, and headache.  However, everyone has a different travel style.  Some people like to plan ahead and some people like to plan when they get there. Personally, I like to grab a Lonely Planet (or any other decent travel guide) and pick the places I want to go, plan my itinerary, and go from there.
Kiplinger lists the 23 best travel sites to check out when planning your trip.  It tells you the best websites to check out for airfare, lodging, and even shares some websites on flight information, seating information, and travel insurance information.
Another great website I usually go to is Yelp or Tripadvisor.  Some people may feel that Lonely Planet (or other guidebook information) can be biased since there are so few perspectives involved.  I found Tripadvisor to be very accurate and helpful when planning my trip to Bali.
Opt for a Lower Airfare Day to Travel
It is widely known that airfare is usually cheaper when you choose to leave and return on a Tuesday or Wednesday during the midweek.  This is because most business travel is usually done in the beginning or the end of the week.  When you're flexible on your traveling dates, you'll be able to get a wider variety of flight prices, and may find that you can save a few hundred dollars even.
Also, make sure you book your travel either in advance or last minute to book the best flight deals.  In my experience, booking ahead worked out better than booking last minute.  Of course, try not to fly during the high season.  When the low season actually starts varies upon the destination that you're opting for.
Clear your Cookies
Many people (including me until a few years ago) are not aware that if you do not clear your cookies while browsing travel booking sites online, the prices will increase depending on the number of times that you visit their websites.  Websites like Expedia, Travelocity, Kayak.com all use cookies to track your visits and will increase the fare prices accordingly.  Therefore, make sure you clear your web browser's bookies and cache.  When you clear your cookies, the websites think its your first time visiting, so you'll "trick" the websites into thinking that they don't need to increase their prices on you. Gadling.com talks more in detail about this if you want to check it out.
Use your Credit Card Instead of Going to Travelex
This may surprise you, but according to Fodors, Visa and Mastercard offer exchange rates that are 16.2% lower than the airport exchange kiosks and 8.1% lower than you would find at the average bank. Using your credit card whenever possible will save you the hassle of carrying large amounts of cash while traveling. However, some overseas merchants may not accept them, or may upcharge you another 2-3% because of the fees they have to pay. That being said, it's always safer to carry a few cards with you and of course, some money in case its not accepted or somehow your primary card gets denied.
Other ways to save money on international travel is to opt for staying at hostels (ex. HostelBookers.com).  Many hostels offer private rooms which give you the privacy for the fraction of the price of a hotel.  Most hostels also offer included breakfast too.  Traveling internationally doesn't have to be expensive.  Meeting new people, experiencing new cultures, and trying exotic foods can make your vacation experience so much richer.
Bargainmoosers, do you have any other tips for international travel?
(Image Credit: Flickr)