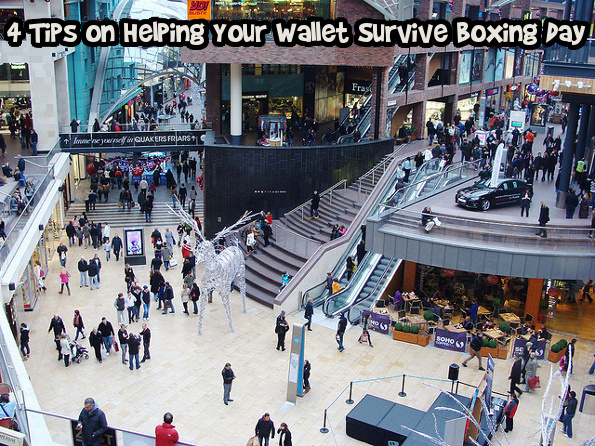 If blowing your budget on holiday gifts wasn't enough, Canadians unfortunately get bombarded with Boxing Day. Boxing Day is a time of hardcore, intense shopping, and it can really sideline you and your wallet if you don't approach the day prepared. Boxing Day is listed as one of the biggest sales of the year according to the December Sales Cycle post. Therefore, in order to get the best out of it (and not a credit card bill filled with regretful impulse purchases) it is important to be prepared.
Here are some tips on helping you and your wallet survive Boxing Day this year:
Know What you Want
Firstly, go into Boxing Day with a purpose. You need to know what you need to buy. If you begin Boxing Day shopping with an aim to simply score a good deal, your wallet will most likely be annihilated with because of the temptation to just buy something because "it's a good deal"… even when you don't need it. This certainly comes into play after you stand in line for 2 hours. Because of the commitment of standing in line for two hours, your psyche will naturally want to "get something" out of the experience, even if there's nothing really that great to buy. Knowing what you want also involves knowing what you want to spend. Creating a budget and sticking to it will prevent you from getting side-tracked when you see something supernumerary that you don't really need but are thinking of impulse purchasing anyway.
Scope Out the Best Deals
A week, sometimes even a few weeks before Boxing Day, most of the stores mail out their flyers, or you could even find most of these flyers online most of the time. Make sure you compare and contrast between different retailers' flyers or sales so that you know where the best deal for what you want is at. This is especially the case for big ticket items like electronics or appliances. Websites like Bargainmoose (of course) keep you regularly updated with the latest Boxing Day deals available across Canada at the major retailers.
Don't Fall for the Bait
According to the Better Business Bureau, many retailers use the "Bait and Switch" tactic, whereby they have limited number of items at a heavily discounted price. Often by the time you get there, the item is already sold out but because you're in "deal mode" you go for less valuable sale items to fill the void of disappointment that you were not able to get what you wanted in the flyer. The BBB recommends that you contact the retailer directly a few days beforehand to inquire how many items are available for that product.
Stay Home?
Lastly and probably most obviously, if you really really want to save money this Boxing Day, avoid it all together. Unless you have something you really want and need, e.g. a new fridge because the one you have is broken down, or a new 55" flat screen television because the one you have is 12 years old, heading out for Boxing Day shopping, braving the crowds, fighting for a parking spot, and not to mention lining up for something that you're not even sure if you really need or want is probably a waste of time.
Another reason to stay home is the luxury of doing your Boxing Day shopping online. This allows you to buy the product that you really want (in most cases, it is big ticket items that we go for) and skip lining up for things that you don't really want. It's a good idea to create an account with the retailer's website prior to the sale starting. The last thing you want is to not get the deal fast enough because you're busy filling out your address and telephone number.
Going in prepared into the biggest sale season of the year will not only help you keep your sanity and your wallet's sanity, but it will help prevent the post-holiday season depression when you have to pay your credit card bill for something that you didn't really need or want.
Bargainmoosers, do you have some great Boxing Day tips or stories to share?
Photo Credit (nicksarebi)