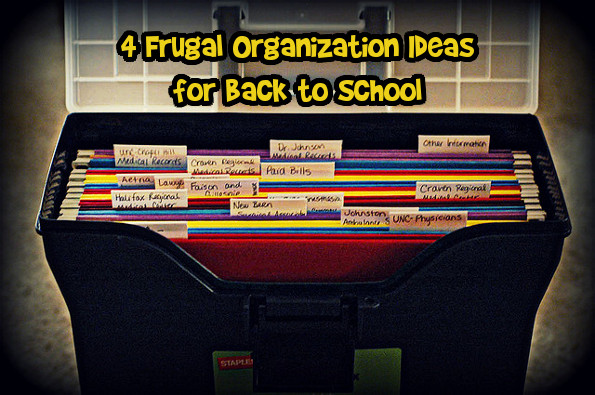 With you or your children being going to school soon, it may feel a little overwhelming for the transition from the lazy days of summer to the "tight ship" routine mode again. Keeping you and your family organized is one of the best ways to help combat the stressers of the daily grind and it can also help you transition you and your family back into next year's lazy days of summer effortlessly (well, almost effortlessly).
Here are four frugal organization ideas that will help keep you and your family's sanity intact throughout the school year. These organization tips will help keep your home clutter free, which will lead to that zen feeling of being happy and calm in your home!
Remember Not to Forget Door Knob Hanger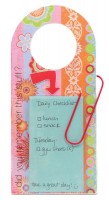 The Creative Organizing Blog has a great Do It Yourself idea on creating a "friendly reminder" for you or your children before heading out the door. It's a daily checklist of important items that can't be forgotten when making that mad dash out the door. When we have so many things on our mind, it's easy to forget essential items like your work cell phone or your office keys (believe me, I have done this on more than one occasion only to be in mid-commute and think "D'Oh!" forgot my cell phone again)!
It would be a fun task to make with your children or if you're doing it for yourself, it really doesn't have to be that fancy or intricate. A nicely designed card stock will do.
Create a Command Central
This idea came from Pinterest (where all good ideas come from, of course) via the blog LandSeeLandDo. To make this, all you need is an area of the kitchen (preferably near the refrigerator) where you can simply attach a large piece of sheet metal. Then add organizers like buckets, a dry erase board, and magnets to it and voila, you have a command central. Each organizer that you add can be dedicated to a specific person in your family so you can feel super-organized! You can read the full tutorial via Land See Land Do here.
Organizing School Papers and Memorabilia
You know those pictures that your children draw for you that you can't bring yourself to throw away? Or those awards and certificates that your child gets in grade 1 or 2 and you don't know where to put them but you know you can't bring yourself to throw them away?
Well, with this cool tutorial on how to organize your school papers and memorabilia, you can have a nice, easy to access, and not to mention organized place to put all of your memories so they can be easily accessed, because we know that children grow up so fast.
To do this, all you need is some folders, some cute file boxes, and some labels. You can also add a cover sheet to each file folder indicating "grade one" etc. to keep things even more uber-organized. You can put your children's school papers and other important documents in it. This idea comes from Dandee Designs.
Use Cut Out Cereal Boxes to organize drawers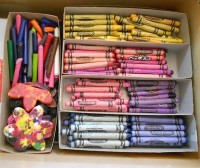 With a fresh set of crayons, pens, pencils, erasers every school year, the stationary in your home can really add up. Cut out cereal boxes make great trays to help you organize your drawers. You can also decorate the cereal boxes with cardstock if you don't want to see "Cheerios" on the side or your organizing trays, of course. This is an eco-friendly, frugal, free way to keep your drawers organized. This is brought to you by the Organizing Made Fun blog where they had a series of posts featuring 31 days to Cheaply Organize your Home.
Unfortunately summer is almost over, but a fresh new school year always brings a new sense of hope, some new adventures, and of course new experiences. From here at Bargainmoose to you, best wishes for a wonderful, challenging (in a good way of course), and thought-provoking school year!
Bargainmoosers, do you have any other back to school organizational tips that you would like to share?
(banner photo credit: macbeck)