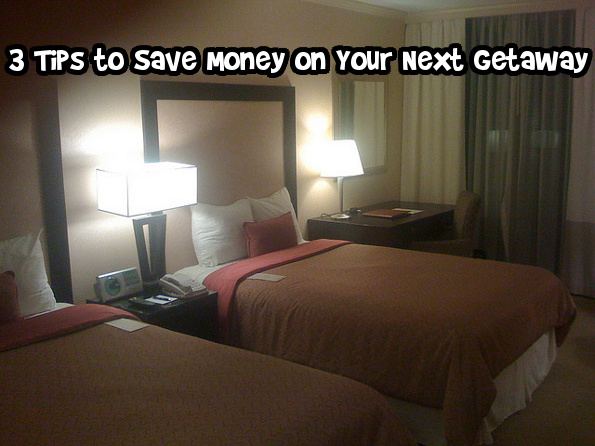 With depressing Canadian winter weather, there's nothing more therapeutic than to dream about and plan your next escape or weekend getaway. Sometimes the cost of getaways can really add up, but here are three tips on how to save a bit of money whether it's on your car rental, hotel, or accommodation next time you head down south or even to another Canadian city destination.
Skip on Car Rental Insurance
Next time you rent a car, think twice about opting to pay for the rental car insurance.  One time when I rented a car in Oahu, Hawaii, we paid an extra $17.95 per day on rental car insurance.  Rental car insurance can range from $10 to $25 per day in extra costs.  It was only after I returned home that I found out I didn't have to pay for the rental car insurance because it was covered under my credit card at the time, as long as I paid for the full cost of the car rental with my credit card.  You also have to decline the rental car insurance offered by the car rental company.  Not all credit cards are made the same.  Check with your credit card provider before you go, because not all credit cards offer this or some may have limited coverage.
If you're too busy to call up the credit card company to wait 20 minutes on hold, you can alternatively check this website to see if your credit card offers rental car insurance.  You want to make sure you're covered for things like damage, collision, theft, and liability.  Another thing to make sure of is not to go "off-roading" or on unpaved roads because many times, this voids the collision damage waiver on your rental car insurance.
Investopedia has a great article on 8 things you need to know before you rent that rental car.
Ask for a Hotel Discount
Accommodation is usually by far the most expensive portion of the getaway budget.  Although hotels don't usually lower their prices arbitrarily for just anything, it doesn't hurt to ask.  You could stand to save at least $20 to $50 or even more off the price of your room if you simply make some phone calls to hotels that you are interested in prior to your trip.  The tactic is to call up the different hotels and simply ask for a discount, meanwhile mentioning other hotels in the area who are offering a lower price.  As hotels are in the hospitality industry, they aim to please their customers and also aim to fill their occupancy quota.  You can get the concept of supply and demand on your side.  If you're traveling during the off-season like spring or fall, you'll be more than likely to receive a discount on a hotel room.
USA Today has a great piece on how to save money on a hotel room.
Go for Air BNB
If all else fails and you don't want to be paying for a $100+/night hotel room and would rather have access to kitchen facilities or meet new people, then opting to stay in a person's guest room or renting their apartment through Air BNB might be a good choice.  With the advent of the Internet, it has created many different options for accommodation, as now people can book directly with someone living in the city of their choice and can stay in their spare room.
The person renting out the room makes some money and the person renting the room saves some money.  You can make sure that its a decent place to stay by checking out the reviews.  It's definitely a win-win situation when traveling for a short period of time in a major city (among 192 countries worldwide).  For example, a cozy little studio in San Francisco, with a full sized fridge and kitchen, costs $66 a night.  As most travelers to San Francisco know, most accommodation in San Francisco costs well over $66 a night.
On your next mini-getaway to a North American destination away from the cold and mundane Canadian winters, think about the different ways you can save money.  That way, you'll have more money to spend on experiencing what your destination has to offer.
Bargainmoosers, do you have any tips to share on how you've saved money on a getaway?
photo credit (brad_holt)