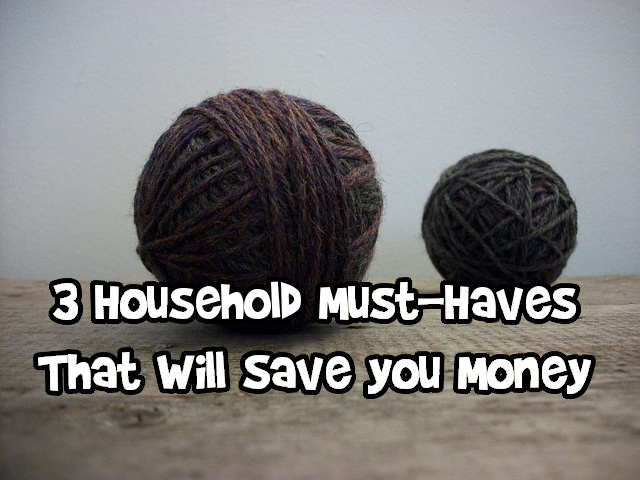 There are a few things around my home that have revolutionized my way of living and made it much easier.  Things that are so simple, yet so effective and important around the home.  Things that you wouldn't normally think of being that great, but they are really that great.
Here are some household must-haves that will save you money (and of course time):
Dryer Balls (If you use a dryer of course)
My drying machine takes hours and hours (maybe two hours) to dry.  It's too wet out in the winter to air dry my clothes and I really do enjoy that warm dry laundry feeling when you pull fresh laundry out of the dryer.  Even when I put the dryer setting on permanent press and add fabric softener, it comes out pretty wrinkled.  The bane of my existence is the weekly ironing sessions to iron out all the wrinkles in my work pants and shirts.
Then recently, I bought some merino wool dryer balls from Amazon.  I put about three dryer balls in and my clothes are fluffy, soft, they even SMELL better (more like laundry and more fresh) and the drying time has been reduced.
The dryer balls work by increasing air circulation, absorbing moisture, and rotating the clothes within the dryer.  The David Suzuki Foundation blog also confirms that dryer balls do work.  They are about $3 a piece, but they are the best three dollars I have spent in a while.  They are shown to reduce drying time by 30-50% and best of all (especially for me, since I hate ironing) they reduce wrinkles!
If you are interested in learning how to make your own wool dryer balls, head to Creative Bug!
What better way to help the environment and yourself by not having to iron as much. Alternately, if you want to REALLY save money, apparently Buzzfeed states that you can make your own dryer balls by throwing balls of bunched up aluminum into the dryer.  I have not tried this myself.
Crock Pot
A crock pot is probably one of the most inexpensive but yet practical tools/ pieces of kitchen equipment available.  For less than $50 for a decent crock pot you can save up to a thousand dollars a year in grocery bills.  According to US News, the crock pot or slow cooker provides leftovers for lunch, takes very little time and effort to prepare meals, and saves you from having to eat out.
Since I am busy working full-time and I pull long hours at work, at the end of the day I barely have enough energy to cook dinner.  The solution is that I batch cook on Sundays and then I have enough meals for the week.  It takes minimal effort and always produces delicious food.  I have made Cuban pot roast, slow cooker chicken, and short ribs, plus other delicious meals that I enjoy throughout the week.  I often freeze meals as well.
Here are a few slow cooker recipes to get you started:
 A Year of Slow Cooking- yes, you guessed correctly!  365 recipes to get you started! (Won't be short of ideas, that's for sure!)
New Leaf Wellness- 8 slow cooker freezer ready meals in under 75 minutes (and this includes clean up time!)
Vinegar, Baking Soda, and Lemon
When life gives you lemon, you don't have to make lemonade, you can just clean.  According to Curbly.com, the must-haves for your household are vinegar, baking soda, and lemon.  With these free cleaning powerhouses, it will eliminate the need to purchase expensive household cleaners.  You can disinfect and clean your cutting boards by running half of a lemon over the cutting board surface.  You can make household cleaner with just vinegar and an orange rind.  You can use baking soda to polish silver, or you can use it as a scrub to scrub off stains and difficult to remove kitchen stains.  Same goes for a bathroom scrub, too.  Baking soda also works great as a deodorizer.  Finally, when your trash can smells funky, just add some baking soda and everything smells fresh again.
There you have it, the three essential must-haves for a happy household!
Bargainmoosers, what are some household must-haves that are life changing for you (or at least household-changing)?
Photo credit: J D