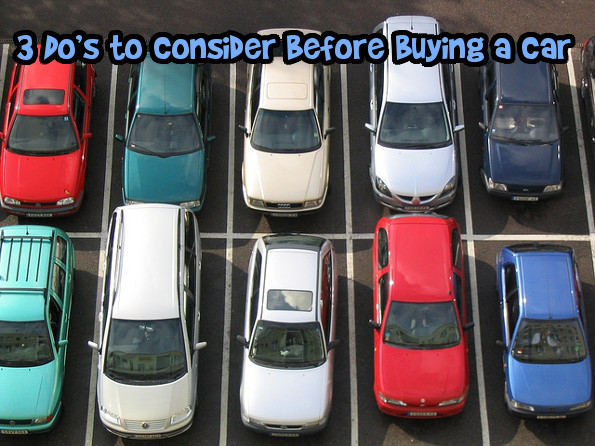 Buying or leasing a car is one of the biggest purchases that we make in our lifetime (second to buying your home, if you buy one, of course). Therefore, it is important to not make hasty decisions. A systematic approach to considerations in buying a car is important before you decide on whether you want metallic silver or midnight black as a paint colour for your car.
Here are three "Do's" to consider before going starting to car-shop:
1. Do research on what will fit your needs
New? Used? Buy from Dealership? Buy directly from the seller? These are just a few of the questions that you need to think about before you begin car shopping/perusing. It is important to research the type of car that you are interested in. Take into consideration the type of car that will fit your needs now and also a few years down the road (for example, SUV, Compact, Midsize, Van, Station Wagon etc). It is best to choose the most compact car that will accommodate your lifestyle as this minimizes fuel consumption.
It is important to think about how long you can see yourself being happy with the car because the average length of car ownership is anywhere from 6-8 years!
2. Do think about whether you want to lease or buy
Pros to leasing
The pros of leasing a car include:
being able to get a new car every few years
being tied down to the same car for a long duration (3 to 4 years instead of 8+ years)
you won't have to be responsible for paying for the full amount of depreciation that happens when you drive that car off the dealership lot.
Cons to leasing
The cons to leasing a car include:
the obvious reason of not being able to really own your car
being tied down to a monthly payment for the duration of the lease
the important reason of mileage restrictions. According to Investopedia, mileage may be capped off at 12,000 to 15,000km per year and if you go over that amount, you have to pay a heavy penalty on a per kilometer basis.
In addition, you may be required to keep to a strict maintenance schedule on the car when you lease.
Pros to Buying
The pros of buying a car:
one day you will end up owning the car you're paying off outright (unless you saved up enough cash to buy the car without financing in the first place).
compared to leasing a car, you're free to rack on as much mileage as you want on the car.
Cons to Buying
Just like there are cons to leasing, there are many different cons to buying too:
buying a car usually costs more on a monthly basis.
the car depreciates the second you drive it off the lot.
with financing, the monthly payments are usually much higher than leasing, and you will be required to put a down payment on the car as well.
3. Do consider the fuel efficiency of the car
Do research on whether the car you are interested in is fuel efficient. The Government of Canada through Natural Resources Canada has a great website detailing the most fuel efficient vehicles in each class.
Each new car you look at on the lot should have a Energuide sticker which tells you the fuel consumption (in Litres/Kilometer) that the car uses. If you are buying a used car, you can look up the car's fuel consumption on The Fuel Consumption Ratings website by the Nautral Resources of Canada website. This tool allows you to compare different makes and models of cars to see which one is more fuel efficient, and roughly how much it would cost in terms of gasoline used on an annual basis. It is a handy tool especially if you are ever curious to see how your car stacks up to the competition.
For example, an Infiniti FX 35 (a luxury car) SUV costs roughly $2500 for gas on an annual basis (using premium gasoline).
In comparison, a Honda Civic (a compact car) costs roughly $1300 for gas on an annual basis (using regular gasoline).
Decisions, decisions…
As you can see, these are just three of the things you need to consider before you buy a new or used car. Doing research on what will fit your needs, whether you want to lease or buy a car, and on whether you would like a fuel-efficient car is important before you even begin car shopping.
Considering these three factors will jumpstart your car shopping experience and may influence your career in a positive way.
(photo credit: Miala)