Spiegelau 6 Pack of Craft Beer Glasses Now $8.49 (Were $90) @ The Bay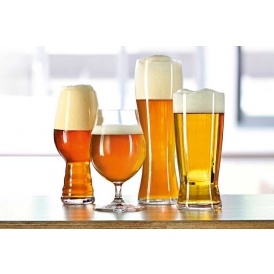 *Bump! This offer is back - and reduced even further with today's coupon code!*
Start thinking about Father's Day! If you are trying to find the perfect gift, then this may be it. Right now you can get the Spiegelau 6 Pack of Craft Beer Glasses on sale for 91% off the regular price once you enter the code SAVE, which has you paying just $8.49. Plus, shipping on this item is only $5.95.
This Spiegelau (try spelling that name 3 times fast) 6 Pack of Craft Beer Glasses is a stellar deal right now. Nowhere else will you find a 6 pack of glasses of this quality for just $8.49. These glasses are designed to enhance the taste of your favourite craft brews, so I am sure it is something our hubbies will enjoy. Heck, even the beer loving women will enjoy this! I have to say, I am definitely more a wine lover though.
These glasses are even certified dishwasher safe and won't have any fogging, scratching or change in colour from being sent through the wash. This pack of glasses for just ten bucks may even last you the rest if your lives. There are a bunch of other drinkware sets on clearance sale at Hudson's Bay as well, but none with discounts quite like this.
Spend $99 to get free shipping, otherwise you will pay a flat-rate shipping fee of $5.95 which isn't bad at all when you consider the massive discount to be had here.
(Expiry: Unknown)