A UK Online Shopping Guide - Multi-Tool $10.50 USD + Free Ship! @ East Dane, UK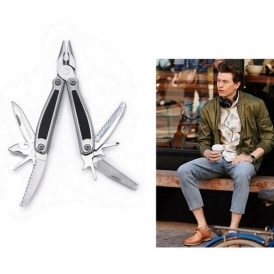 A friend of mine told me about East Dane - they said it was a great UK online shop to keep an eye on, and they weren't kidding! This is an online store that has a huge, interesting and unique selection of products such as clothing, accessories, and so many other items that ship for free to Canada from the UK. The shipping times are very reasonable as well! They have So. Much. Stuff!
There are all sorts of filters you can apply, for pricing, categories, etc., that you will find the right item in no time flat.
Take a peek at this Father's Day gift that I found for my husband. (Ok, I admit, it's a little bit for me, too.) For some reason, I am the 'go to' person that people come to when they are looking for things such as screwdrivers, wrenches and more. I dutifully rummage through all of the drawers next to the computer, (stabbing myself all-the-while on little tiny computer screwdrivers, cuticle nippers, and what-not.) I plan on handing this over to whoever needs whatever, when it arrives.
Anyway - This East Dane Gifts Multi-tool is unique. I have seen many different gadgets and tools, but you can see this one really takes the cake. Look at how many different functions it has, and how many gadgets flip out from the side handles? It's amazing, and is selling for $10.50 USD after 70% off! Note that this item is a final sale, with no returns. This is only because it was in the final clearance section "70% off section of the website." They also show you the estimated price in CAD, but clearly state that you will be billed in USD.
You will also note during the shipping option, that East Dane provides several shipping options, all for free. I want to show you a picture here, what your choices may be like.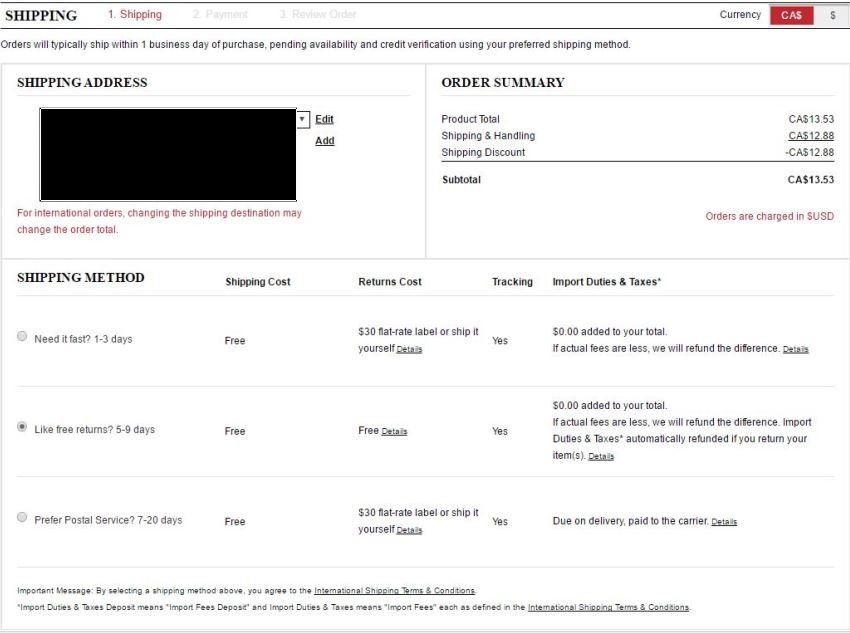 I noted that if I ordered only one of these Multi-tools, no extra charges were added for an import fee. By ordering two, it's apparent I'm over the threshold where duty needs to be charged.

In this case I selected the 'Like Free Returns? - 5-9 days' option, as you can see in the picture. The 'details' when you click on it, under the 'returns' cost for selection # 2 states the following: "To qualify for this option, your return must be sent using the enclosed prepaid shipping label. Packages sent without using the provided label with this order are not eligible for free return shipping and are not eligible for the automatic refund of the applicable Import Fees Deposit for returned merchandise." This is great, because it means option 2 includes a free shipping label plus the return import fees deposit if I had to make a return! I will take door #2 then.
If you select option # 2, this is the next screen that follows (now you can see the import fees that have been added when you have two of these items in the cart.):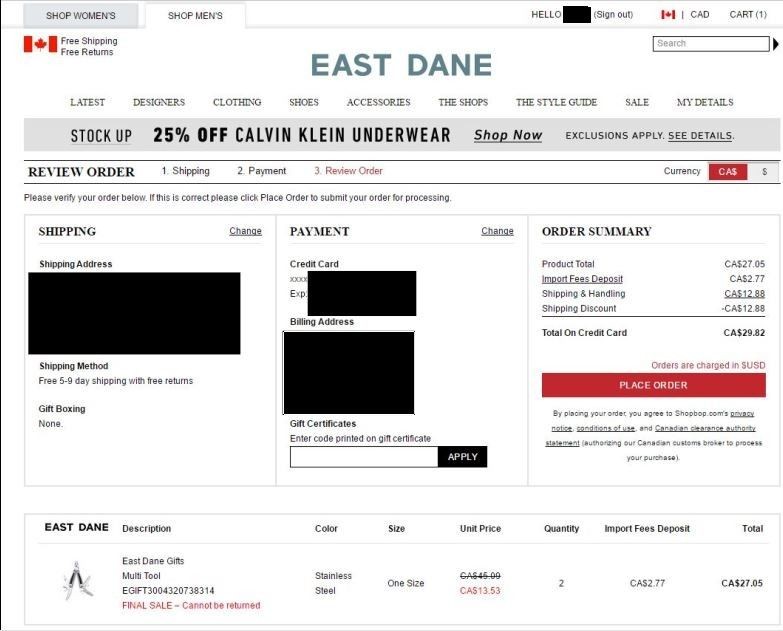 If you go check out the website for yourself, you will see it is user-friendly and so easy to navigate. Once you have your items loaded in your cart, it will be clear to see what I am showing you here with the shipping.

Shipping is free! Depending on delivery speed, whether or not to pay import fees online or at the door, and whether or not there could be a 'returns' shipping cost to you should you need to return the item, will be up to you to decide.
(Deal expiry: Unknown)