35% Off Dove Men's Products + 15% Off 5 Or more + Free Ship @ Amazon Subscribe & Save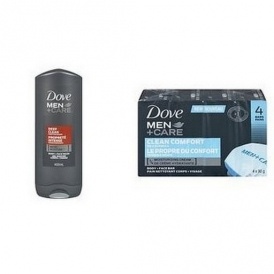 Are you familiar with Amazon's Subscribe & Save program? I've been using it myself for a long time, it is the best! Free shipping is offered on items that you select (that are applicable to the Amazon Subscribe & Save program, with prices starting from as low as $1 or $2!) You can decide how often you would like the products coming around to your home - every 1 - 6 months are the available options to select from. There are so many items in the Amazon Subscribe & Save online store!
When you shop for an item, make sure you don't just place it into the cart for a regular checkout. You will want to look at the product to see if 'Subscribe & Save' is an optional selection. Some products have it, others don't. To max out your savings, you will always want to have 5 or more products that you check out. Each product needs to be 'checked out' of your shopping cart on it's own through the Subscribe & Save checkout. At that point you will see subtotals.
Consider using using this type of service for pantry staples, coffee, and more. as well. Usually items are set to ship out within 2 weeks or so but here is a great tip - You can actually easily move the date ahead on your own, online, so that it arrives more quickly! Subsequent orders will also ship out on those dates in the future. You can usually set your Subscribe & Save order to ship out within a few days. (You may select this option to ship sooner, only once you have ordered all of your products.)
If you select to have 5 items ordered through the Subscribe & Save program, you will receive an additional 15% off, and free shipping as usual. (This is the current, on-going promotion that is being offered.) Once you receive the products in the mail, you can decide whether or not you wish to have the subscription for your products continue on, or if you want to stop the subscription plan. There is no charge for you to stop the Subscribe and Save program, and you are under no obligation to continue on with your subscription. If you choose to cancel the subscription and future orders, you must go and do that online, under your account settings. It can easily be completed online and you can view the status of the cancellation on your account, since it cancels immediately!
What to Order?
With Father's Day right around the corner this month, Amazon appears to be focusing on men, and what they would love to have for the Subscribe & Save program.
Dove Men Products are now 35% off only if purchased on the Amazon.ca Subscribe & Save Program. Keep in mind, you will also receive an additional 15% off if you have 5 or more items of any variety set to go for the subscribe and save. You can select from body washes, special soaps, Antiperspirants, and more.
The 35% discount mentioned above will automatically show up in the cart each time you 'pay' for your item, as long as you have selected to order from the Subscribe & Save. Once you have 5 items or more set up to ship out, you will be alerted that you are receiving 15% off. I LOVE free shipping. You will be able to make a really great Dove Men's Package for your special man on Father's Day!
Don't forget to change your delivery date online, via your account settings, if you want to, so you can get your products in time for Father's Day.
Shipping is - FREE!
(Deal expiry: Unknown)