Free Easter Egg Container with Itty Bittys Purchase @ Hallmark Canada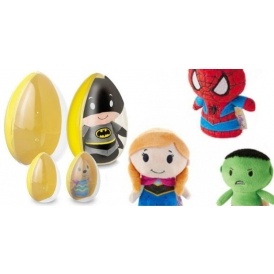 Easter is just around the corner —is your bunny prepared? Hallmark has a pretty cool offer in light of the occasion. Until March 24th you can get a free Egg Container when you purchase four of the adorable Itty Bittys characters. These characters make cute Easter gifts on their own - but they are even cuter when you stuff them inside the Egg Container! This offer is available in stores only, and you will need to use this print coupon.
I noticed the adorable Itty Bittys characters when I was at Hallmark last actually. My son and I had just watched the Peanuts movie and they had an adorable little Snoopy character that we just had to buy. I wonder if they will have any Easter-themed characters? If not they have Disney princesses, super heroes and all that fun stuff.
You will need to buy four of the Itty Bittys in order to get you free Egg Container. These cute stuffies range from $1.95 and $4.95 so buying four is definitely no biggie and they are something fun for the bunny to leave for the kids this coming weekend. You can choose between the large Egg Container and cram all four of your purchases inside, or a small Egg Container for one Itty Bitty character.
This coupon can be used anytime before March 24th, so head on over and check out what Itty Bittys can be found at your local Hallmark!
(Expiry: 24th March 2016)