Fisher-Price Disney Minnie Rainbow Dazzle $8.73 @ Amazon Canada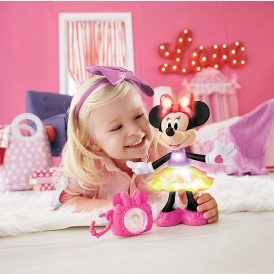 Disney toys are the best for the kids! All the kids love them, and they seem to be timeless. Right now Amazon.ca has the Fisher-Price Minnie Disney Rainbow Dazzle Toy on sale for $8.73 down from $33. Wow!
This 10-inch Minnie Doll is going to surprise you for her size! She has a magical light-up colour-changing outfit that is going to dazzle any little one's mind. She also sings the classic "True Colours" Disney Song and she says a whole bunch of fun fashion phrases.
There are over 200 colour design combinations for the kids to create! She comes with a camera accessory that gives Minnie a special rainbow-dazzle light effect when you look at her through the lens. You may even find me playing with this one, folks!
This is an add-on item, so it will ship with any qualifying order over $35. I am sure you can get some back to school shopping done on Amazon.ca though to reach that minimum.