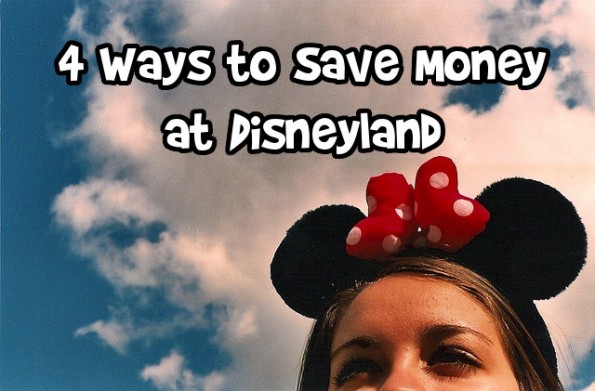 At work, a few of my colleagues are taking their children to Disneyland for the very first time.  Their children are undoubtedly very excited about the future trip and cannot contain themselves with excitement.  My colleagues on the other hand, are just as excited but not as excited about the possibility of baking in the hot sun while lining up for hours and definitely not as excited about the credit card bill that this Disneyland trip will create.
For a family, Disneyland can be very expensive.  At Disneyland, for children aged 3-9 it is $162 for a two day park pass and for children older than 10, it is $175 for a two day park pass.  This price doesn't include the accommodation, the souvenirs (oh, the expensive souvenirs), the food (the expensive food), and the flight to Disneyland or rental car (or the gas if you are planning to drive down).
Even though it is very expensive, it is a very magical place and seeing the happiness in your children's eyes is enough to make the expense worthwhile, so here are some ways in which you can save money at Disneyland, Disneyland on a budget.
Avoid High Season
The absolute worst times to go to Disneyland are obviously the high season: July, August, and December (Christmas time).  Avoid these times like the plague because airfare will cost more, the accommodation will cost more, and there will be more people in line ups, meaning less time enjoying what Disneyland has to offer.
Consider the last weekend of August or just the first week of September.  Not advocating for taking your children out of school of course, but usually the first day of school or second day of school there isn't much content to cover anyway.  And your children probably won't mind because they'll get to tell their friends that they weren't there during the first day of school because they were in Disneyland!
Managing to avoid weekends will be helpful for accommodation as well.  Do not stay at the Disneyland resort, that will be very expensive.  Check out websites such as Priceline, Hotels.com, Airbnb.com and Hotwire for places to stay near Disneyland.  If you are planning to stay at the Disneyland resort, make sure you head back to the hotel room for lunch in order to offset the cost of the meals at the park.
Another perk to avoiding high season is the ability to use Aeroplan points.  North American flights are cheap on Aeroplan compared to international flights, so if you can save money on your flight, that will save you a ton of money.
BYOF (Bring Your Own Food)
Eating at Disneyland is very expensive, let alone having a character themed meal (where the princesses eat with you and your children).  Bring your own snacks and food to Disneyland along with ice packs.  Put it in a locker if you don't want to lug it around with you.  This will easily save you $10 per person per meal (with $10 per meal on the low end, this is assuming you avoid sit-down meals at the park).  For a family of four, two meals at $120 per day really adds up.  Also, make sure your motel/hotel/accommodation has continental breakfast and make sure you eat a hearty breakfast before you head out to Disneyland.
Buy Souvenirs Beforehand
If you think about it, your children want to be just like everyone else at Disneyland.  They want to look the part and they want to be wearing their favourite Disneyland paraphernalia gear while at the park.  Make a quick stop at a souvenir shop in Anaheim for souvenirs before you start your adventure at the magical kingdom and both your children and your wallet will be happy.  With T-shirts for babies and small toddlers costing $15 a piece at Disneyland, you can save a lot of money by buying it for half the price just like this writer for Yahoo did to save money at Disneyland.
Tickets Ahead of Time
Finally, buying tickets ahead of time will save you money.  About.com has a great page on the ticket prices for Disneyland and some coupon codes that you can use to save money.  Buying your tickets at Costco can save you money as well, but only about $5 off each ticket.
Bargainmoosers, do you have any other ways in which you save money at Disneyland?
Photo credit: Kelsey