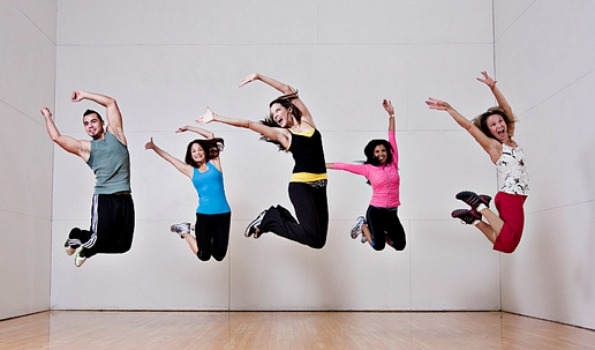 Move and groove with the Zumba Fitness Exhilarate Ultimate Experience DVD set. This large boxed set was $129.99, but you can purchase it for only $66.04. This set also qualifies for completely free super saver shipping.
I have been curious about Zumba for a while now but never made the jump. Near my house, a Zumba fitness studio is pumping up the tunes at least five days a week. I see many tall and lean women (and a few guys also) frequenting that class. It would probably be in my best interest to join them. I think by the time I could escape my house and family regularly for the evening, all of the classes are long over.
Rather than paying for classes that I know I will end up missing half of, I could invest a little less money and pick up this fantastic looking DVD collection. This set includes seven DVDs full of workouts and music that will keep you dancing. I find I need to have a lot of variety in my workout to keep interested, and this set is packed full of options. The music and workouts vary between upbeat Latin, salsa, hip-hop and even belly dancing. Your set will also come with toning sticks, which are a nice set of light dumbbells to help you sculpt as you dance your stress away. I also like that there is an option to turn off the verbal instructions. If you get good at the steps, you can just lose yourself in the dancing.
You could pick up this Zumba set at Walmart.ca for $99.99. Canadian Tire also sells this DVD set in store for $99.99. Sears.ca carried this Zumba set for $99.99 also, but it is currently out of stock. Looks like Amazon is setting the bar for the best price on this set.
Looking at the reviews, many people are talking about this set. Over at Amazon Canada, 116 people have reviewed this set and it carries a hefty four out of five stars. After scanning the reviews, most people seem very happy with the workouts. Zumba has had a big following for a while and the reviews seem to reflect that trend. The main issue anyone notes that the packaging is a little on the flimsy side. I noticed that this particular set currently sits at a number fourteen slot in the exercise video category. In the number one exercise video slot is a similar Zumba set with less included DVDs.
Swimsuit season is coming up and I have been unmotivated to stick to my workout routine. I think this Zumba set might be just what I need to jumpstart a little fun into my workout. Grab yours set now Bargainmoosers! We have not seen much in the Zumba line go on sale in over a year according to a quick search of our site.
Image Credit: Edson Hong
(Expiry: Unknown)