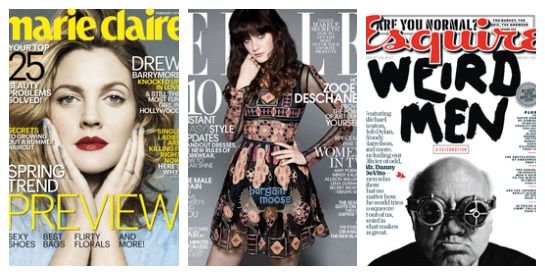 Get five issues of your favourite magazine (or try a new one) for only $5.57 ($5 U.S.) at Zinio.
The selection for this deal is quite limited, but I was able to get a magazine that I love for only $5, which is just $1 an issue. You can order all of the magazines in the selection list, if you like, for $5 for five issues.
I got the Food Network magazine because I love to cook, am somewhat addicted to the Food Network and am a little obsessed with food magazines.
Other choices include:
Car & Driver
Cosmopolitan
Country Living
Elle
Elle Decor
Esquire
Good Housekeeping
Bazaar
HGTV magazine - maybe I'll order this one too
House Beautiful
Marie Claire
Oprah - I already got this one through a Wag Jag recently or it would have been my #1 choice
Popular Mechanics
Redbook
Road & Track
Seventeen
Town & Country
Woman's Day
As you can see, there is a great selection of magazines, although no Canadian ones. This deal is great if you are thinking of trying out a magazine and want to see what it is like before getting a full subscription. The cost of this deal is probably the same price as you'd pay for one magazine on the newstand so you really can't lose.
The shipping costs are built right on so the only additional costs are taxes.
(Expiry: Unknown)