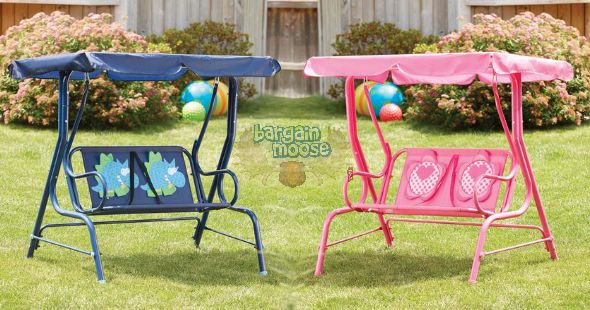 Looking for a fun little item to put in the backyard for the kiddos? Walmart Canada has the Your Zone Kids Swing on clearance sale for just $50. This swing originally had a price tag that read $74, so you are saving a good chunk on an item that the kids will love. Not only that, but Walmart.ca has free shipping on orders over $50 too.
What an adorable little swing for girls and boys, and at just a portion of the regular cost. Why pay $74 for this Your Zone Kids Swing when you can spend just $50? The kids will love it. This swing seats two, has a sturdy build and even shades your child from the sun. This Your Zone Kids Swing is best suited for children 3-6 years of age and under 130 pounds. That means weight wise even I could use this swing if I really wanted to.
This adorable little garden swing comes in two different colours: blue and pink. While the blue swing is labelled for boys and the pink swing is labelled for girls, my two year old often opts for the pink version of things. Perhaps because my favourite colour is pink? Either way, the blue design has adorable little dinosaurs on it and the pink design has pink flowers on it. Most Walmart Canada stores have this item at this price, so if you don't want to wait for shipping you can always head into your store to snag this offer.
Here are the two different colours available for the Your Zone Kids Swing for $50 at Walmart.ca:
I think this item is just adorable. We have a lot of BBQs during the summer months and my son would love to sit on this while I cook or arrange the yard for the family to come over. My son also gets sun burnt easily so I am thankful for the little canopy. The material should also be easy to clean if your children happen to spill anything. To prevent the toy from rusting, I would store it in the garage or shed during the winter months or possibly even when it is raining.
There is just one review on this product. It states that it was shipped fast, was easy to assemble and that the kids love it. Assembly is required, but the instructions and tools are included. Since this item is $50, you will also get free shipping from Walmart.ca.
(Expiry: Unknown)