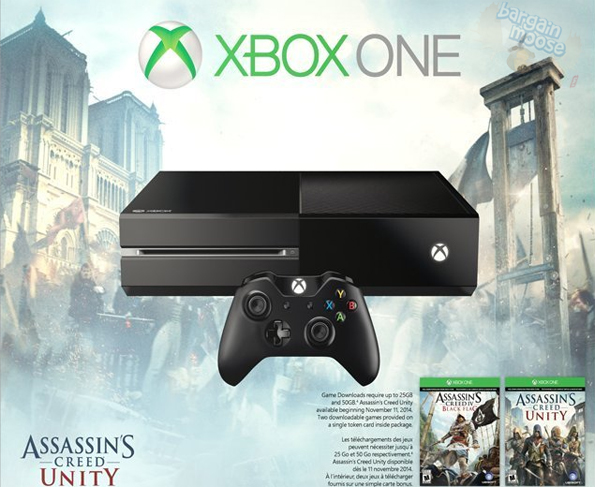 If you've been thinking of jumping into the console waters and buying one for yourself or your family, today could be a good opportunity to do so. In the Black Friday countdown on Amazon.ca, there's a pretty sweet deal on an Xbox One bundle. You can get the bundle which comes with Assassin's Creed Unity, for only $399. That's a standard price, but for today only, they're also throwing in a free digital copy of the video game, Forza Horizon 2.
To get your free copy of Forza Horizon 2, you just need to buy an Xbox One bundle, without Kinect. There are a few terms here if you want to scan through them. They say:
A promotion code for the game will be delivered to you via email within 2 business days of purchase.
I've done a bit of research to show you the how the price matches up with the competition. Everywhere else that I can see online, they're offering the same Assassin's Creed Unity Xbox One bundle for $400, such as at Microsoft, Future Shop and Best Buy. The price rises when the bundle includes Kinect, such as $580 @ Costco. So, the base price at Amazon.ca meets the pricing standards elsewhere. But the bonus here is the FREE Forza Horizon 2.
I know it's difficult to compare the cost of digital video games with hard copies, but I'm going to do that just to show you the value of the Forza Horizon 2 that comes with the Xbox One bundle. The game is $54 on Amazon, $65 from Bestbuy, $65 from Futureshop, $65 from Costco, $65 from Walmart, $65 from The Microsoft Store. So as you can see, it's a top-tier game, commonly around $50 to $70 and you're getting it free today from Amazon.
On the Amazon sale page, it also says this:
Get a 12-month Xbox Live membership for $44.99 ($15 in savings) with the purchase of a qualifying Xbox One or Xbox 360 console. Here's how.
The above offer could be worth adding to your purchase as well.
I know that some of the Moosers are gamers and might be interested in this package. However, there are also some mom and dad Moosers who are looking for pressies like this for their older kids, so this could be a good time to buy.
(Expires 16th November 2014)