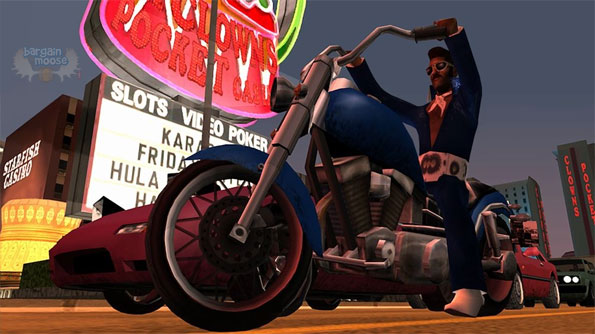 Got an Xbox 360? Then you're going to want to bust it out for this oldie because it's a steal of a deal! For a limited time, you can get Grand Theft Auto: San Andreas for just $3.74 for Xbox 360.
Oh the memories! Vice City is actually the very first GTA game I ever played and since it right away hooked me, I just had to get San Andreas as well once it came out. Despite being widely criticized for its gangster elements, it is nevertheless a very fun game.
Searching for its original release date, I actually found that Grand Theft Auto: San Andreas first came out on October 26th 2004, which definitely explains the price drop as it has been nearly a decade!
If you're wondering why the heck you should play a decade-old game, the answer it simple: it's fun, addicting and I'm sure that you'll forget all about how old it is. Graphically, it may not be as visually impressive as the latest instalment to have been released, GTA V, but at the time of its release, it was actually widely praised for its visuals. Plus, if you're a GTA fan and have already finished GTA V, then it might be fun to either re-visit the oldies or play them for the very first time if you haven't already just to get a handle on the story line.
Although there aren't any in stock at Amazon, Future Shop is selling this version of the popular game for $19.99. There are plenty of immensely positive reviews online but here's one I took from Future Shop's site:
What can I say This game is amazing. From gameplay, graphics and story, this game is unbelievable. The offline co-op game will take you a long time if you want to get 100 completion like I did . I've put in 94 hours offline alone. lol. This game is addictive.
However, if you're excited about the hot coffee mod, then you may be disappointed to know that a patch disabled the script that allowed users to access it. If you haven't heard about the hot coffee mod, a quick search in Google will tell you all about it as it might not be the most appropriate GTA fact to mention here! ;)
(Expiry: Unknown)