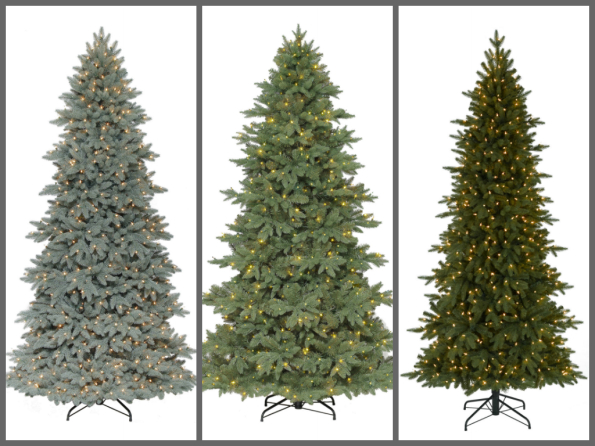 Have you decked the halls? Decorating for Christmas can be expensive, especially if you need a new Christmas tree. We can always rely on Walmart.ca to have stellar deals and already low regular prices on items we need, like Christmas trees. If you browse the Holiday section on Walmart.ca, you will notice that you can snag a brand new tree for the Holiday season for as low as $19.97. There are several trees to choose from, so pick your preference depending on height, style, lights etc. Just keep in mind that you must spend $50 or more to get free shipping from Walmart.ca.
Who would have thought that you could replace your Christmas tree for as low as twenty bucks?! I thought that was only possible during the Target clearance sales when they closed up shop, since that is where I got my tree for such a fabulous price. Well Moosers, you are in luck. Walmart.ca has Christmas trees on for as low as $19.97. While prices start that low, they do increase up to $650 but I am going to stick to telling you about the Christmas trees that are under $200. There is quite a selection.
Here is a look at the available Christmas trees from Walmart Canada:
Not Lit
5' Christmas Tree with Basket - $19.97
6' Un-Lit Whistler Spruce Tree - $24
7.5' Upside Down Christmas Tree  $69.97
Pre-Lit
4' Franklin Green Tree With Clear Lights - $40
Holiday Time Colorado Black Tree With Lights - $48
Holiday Time Colorado Green Tree With Lights - $48
Holiday Time Colorado White Tree With Lights - $48
Holiday Time 7' Pre-Lit Sonoma Pine Tree With Lights - $79.83
6.5' Windham Green Tree With  Coloured Lights - $143
Holiday Time Kennedy Quick Lit Tree - $163.88
7.5' Pre-Lit Glitter Cashmere Tree - $180
Holiday Time 7' Christmas Pre Lit Tree - $189
7.5' Sutton Green Tree With Clear - $199
Holiday Time Dawson Pencil Green tree with Lights - $199.94
When you shop for a Christmas tree, what do you look for? Do you check the tip count so you don't end up with a tree like Charlie Brown? Do you prefer lit or unlit? The options are plenty!
Spend $50 or more to get free shipping from Walmart.ca. Otherwise you can have your purchase shipped to your local Canada Post Office for totally free. There is the other option of having your item sent to a Walmart Canada Grab & Go Locker, but not all locations have these and I am not even sure if the Christmas tree would fit.
Moosers, how often do you replace your Christmas tree?
(Expiry: Christmas?!)