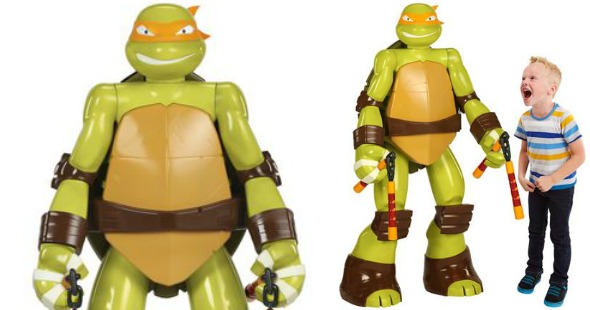 Do you have a little boy who loves the Teenage Mutant Ninja Turtles? Turns out that TMNT is a hot commodity on Christmas lists this year, and Walmart.ca has a super clearance deal if you are looking for anything Teenage Mutant Ninja Turtle related to put under the Christmas tree this year. Check out the TMNT 48" Colossal Sized Teenage Mutant Ninja Turtle Michelangelo which is on clearance sale from $89.96 down to just $44. There are a few different shipping options from Walmart.ca.
Teenage Mutant Ninja Turtles was an extremely popular show on Nickelodeon - actually it still is quite popular, just a little different than when we were young. These skateboarding turtles steal the hearts of many little boys, and I am pretty amazed that they decided to make a toy of Mike that stands 48" tall! It even has nine different points of articulation, so you can move his arms and legs to position him differently. I'm think that when the kids are done with him, he might become a permanent resident in the back seat of my truck.
You can even open the shell of this figure to reveal a secret storage compartments! What will your little ones put inside? Hopefully not their sandwich. My son will be three in February and he tried to stash a peanut butter sandwich in our VCR/DVD player. I was meaning to get rid of that thing anyway, but not for that reason! Kids have mysterious ways....
There are a few other figures that are on the rather larger side on clearance sale at Walmart.ca, so if Michelangelo is not your favourite, then check out the others:
When it comes to shipping, you will have three different options. You can spend $50 ($6 more) and get free shipping right to your front door, or choose one of the other two free shipping options. The other two options include having your item sent to your closest Canada Post Office or having the purchase sent to your local Walmart that has Grab & Go Lockers.
Moosers, would you buy something like this for your kiddo?
(Expiry: Unknown)