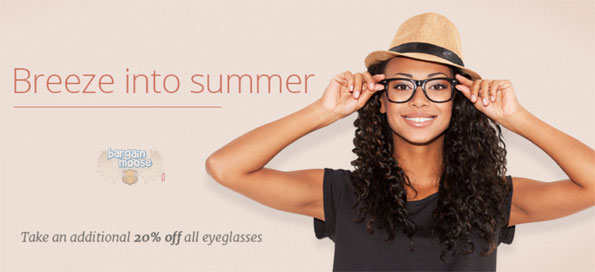 Breeze into summer with 20% off all eye glasses at World of Eyes!
Click here to shop @ WorldofEyes.com now
Coupon Code: 20SUMMER14
Discount: 20% off
Expiry: 31st July 2014
Good news: this code may be used on both eyeglasses and sunglasses. Since I don't wear eyeglasses, I had a look at the sunglasses section and was delighted to find big name brands like: Burberry, Hugo Boss, Dior, Gucci, Prada, Ray-Ban, Versace etc. Keep in mind that whatever price you see upon mousing over any of the glasses is actually the MSRP (manufacturer's suggested retail price). To get the actual price, you need to click on any pair of glasses.
What's cool about World of Eyes is that you can search for eyeglasses and sunglasses by brands, frame shapes, frame types, frame material and sizing. Ever since my cheapie $10 look-alike broke down faster than I could wear them for, I have been wanting to get the original RayBan gold aviator RB2025 sunglasses and World of Eyes has them for $196 ($245 MSRP). With the code, they come further down to just $156.80. Rayban's own website has them for $225! I even found a pair of Rayban junior 9506S sunglassesfor $64.80 ($81 MSRP). They get reduced to $51.84 and look very similar to the gold aviator ones but feature a pink pink mirror silver gradient -- and no, that's no a typo, it's how World of Eyes has described them! If my daughter was old enough, I would totally love for her to have these while I sported my gold aviator one in a "like mother, like daughter" fashion. :P
For all you Versace fans, the Versace VE4251 sunglasses can be yours for a discounted price of $184 instead of $240 ($300 MSRP). These same ones are $311.58 on Amazon. In any case, there are plenty more sunglasses to choose from as well!
Shipping is at a flat rate of $9.99 per order for standard delivery and $19.99 for express. If you happen to miss this promotion as it does expire soon, you can always take advantage of the World of Eyes promo code that we have in the forum for free shipping on orders over $99. I tried to use both the above cove with the free shipping code and sadly, it didn't work as only one code may be used at a time. There is also a coupon there for a free box of contact lenses with purchase of any three boxes.