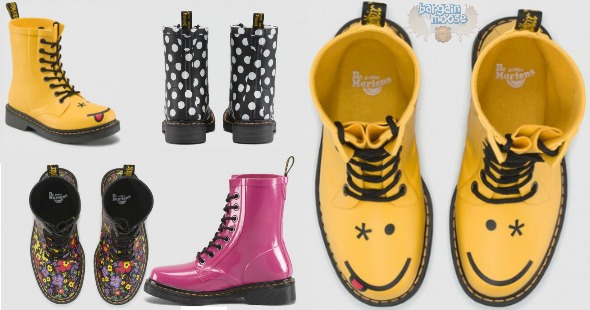 *Bump! Some of these boots are an even lower price!*
It is time to prepare for winter, and Dr. Martens knows that. I definitely don't want to wear my UGGs out in this wet weather. Right now UnionJackBoots.com has their End of Season Sale, which will allow you to save up to 50% on Drench Boots for Women. These boots were priced up to $159.99, but now you will pay under $79.99. Since Dr. Martens Canada throws in free shipping when you spend $75, you won't have to worry about those costs either.
There are a variety of Dr. Martens Women Drench Boots on sale during their End of Season Sale for up to 50% off the regular price. You can go from black and white polka dots to vibrant pink rain boots for under $79.99. The quality of these boots are tremendous and well worth the money. You even get to add some personality to your outfit while keeping your feet dry.
These Drench Matt Yellow Acid Smiley Boots are a great way to add some humour to your attire. These boots were $150, but now you will pay just $69.99. This is a great way to say "nana-nana boo boo" to the rain, and enjoy the puddles. These boots boast the classic 8-eye look, but are completely waterproof. You will even be happy to know that these Drench Boots are lined with warm and comfortable fleece. There are all sizes available from UK3 to UK8.
If you're looking for other colours in the Drench Boots from UnionJackBoots.com, you will be pleasantly surprised. I personally love the Drench Hot Pink Patent Boot - but I am a sucker for pink shoes. These boots will add a smile to your face as your walking during gloomy weather. The price will please you too. Instead of paying $149.99, you will pay just $79.99 while quantities last.
The other colours available in the Dr. Martens Drench boots include:
Dr. Martens Canada by Union Jack Boots even offers free shipping on all orders over $75, which means you won't have any extra fees to pay. This is great because shipping would normally cost you a whopping $15. Dr. Martens ships anywhere in Canada too. They typically ship in 1-3 business days, so your order will be here in time for the April showers as well.
(Expiry: Unknown)