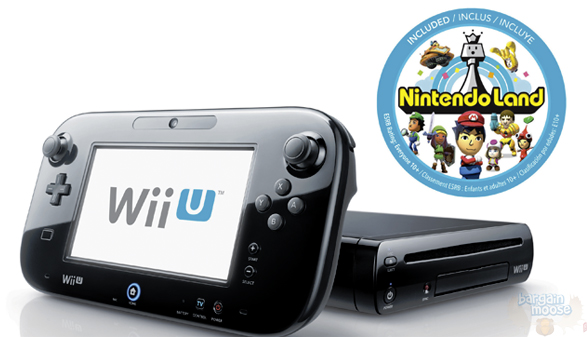 Did you know that Nintendo Canada has an online store, from which they also sell refurbished products at low prices? Well, I've spotted a deal on there, for a refurbished bundle of the Nintendo Wii U console, along with the NintendoLand game – it's priced at only $200.
Standard shipping is $7, so brings the total to $207 plus taxes.
Even though this is a refurbished item, it still comes with a full one year warranty, so there's nothing to worry about in that regard. Their refurb policy states this:
Although it may have minor cosmetic blemishes, it is guaranteed to be fully functional. We think you will find the standards for Authentic Nintendo Refurbished Products are VERY high.
Sounds good to me! And it's quite a good saving on the MRSP too. For example, the Wii U console alone is $250 @ Best Buy, $300 @ Staples, $320 @ Amazon, $300 @ EBGames, $350 @ NCIX, $300 @ Chapters Indigo.
The box comes with quite a few things included, with the main aspects being:
Wii U console (32GB Internal Storage*)
Wii U GamePad
Nintendo Land game disc
There are other items included such as the sensor bar, you can see a full list when you click through.
While you can buy bundles from $350 @ Costco, from $300 @ The Source, that kind of thing… it might be worth comparing those type of prices to see if it's bundled with a game you are interested in. But if you're just looking for the basic console and are happy with Nintendoland to get you started, then this price from Nintendo is very good. And the NintendoLand Bundle seems to be around $30 to $60 alone.
(Expiry unknown)