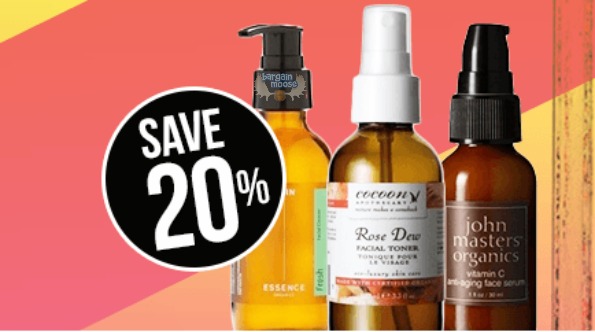 Today only, use the coupon code to get 20% off any brand of facial skincare at Well.ca. This is a really great coupon code as I don't often see ones like this for Well.ca and definitely not across the board on a huge selection of brands.
Click here to shop @ Well.ca now
Coupon Code: LOVEYOURSKIN
Discount: 20% off
Expiry: 26th May 2014
Not just do you get a huge selection of brands available for the discount, but the term facial skincare is quite large. It includes toners, serums, eye cream, lip care, moisturizers and so much more. It even includes devices.
Lately, I've noticed that I look so tired in photos. This is mainly because of the dark circles under my eyes, from, you know, lack of sleep that having three children brings. I haven't known what to do about it, but I've considered that there should be some sort of eye product that could help. This Skin Essence Organics ocular eye serum looks like just the stuff. It provides nourishing extracts to improve dark circles and reduce puffiness and smooth fine lines. It is made in Canada, organic and made with plant ingredients. With the coupon you can pick this serum up for only $18.40, regularly $23.
If you've been thinking about doing microdermabrasion, now is the time to pick up this Olay Pro-X microdermabrasion plus advanced cleansing system from Well.ca. You'll save $9 on the entire kit and pay only $35.99, rather than $44.99.
Shipping is free when you spend over $25, so you might want to stock up on your skin products today. Check for all our Well.ca coupons in the forum.