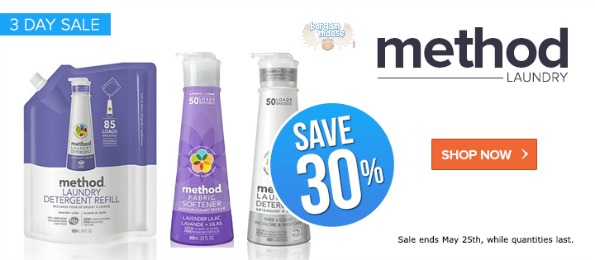 For three days only, save 30% on Method Laundry products.
Method is the only laundry detergent I use because I have very sensitive skin that cannot handle regular detergents without breaking out into a rash. Method has been so friendly to my sensitive skin, that I can even use their fabric softener without any problems.
However, Method isn't exactly cheap. The best way to make Method fit your budget is to always buy it when it is on sale and only buy the pump container once and then buy the refills for it after that.
This Method Laundry Detergent Fresh Air was $16.99 and is now $11.89. The 600 ml bottle will give you 50 loads worth of clean laundry. That works out to 23.78 cents a load. Once you have the pump, you will want to buy the refill bag. The Method Laundry Detergent Refill Fresh Air was $21.99 and is now $15.39. It comes in at 1020 ml, or 85 loads. That works out to 18.11 cents a load.
The dispenser for the refill is super easy to use as well. Don't worry about that. There are also plenty of scents on sale.
Be sure to pick up the Method Fabric Softener which was $7.99 and is now $5.59. Great for sensitive skin.
Receive free shipping on orders of $25 or more.
For Well.ca coupon codes, always visit the forum before placing an order.
(Expiry: 25th May 2014)