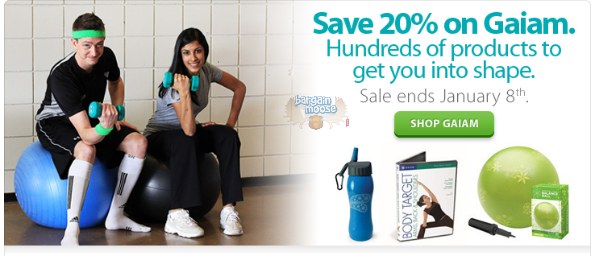 If you are into Yoga or Palates you probably are familiar with the brand Gaiam. Well.ca is offering 20% off all Gaiam products to help you get into a fitness routine this year.
The sale includes DVDs, products like mats, balls, water bottles and blocks... as well as other items. There are literally over 100 products to choose from. I like this deal on a 5 Day Fit: Pilates DVD and Kit with Ana Caban & Jillian Hessel for $11.99 (orig. $14.99). You get a DVD and 2 water bottles for that price, very good deal.
I would also be interested in this Gaiam Maintenance Yoga For Weight Loss DVD for $14.39 (orig. $17.99).
About:
Gaiam's Maintenance Yoga for Weight Loss DVD helps maintain natural weight loss for life by restoring a stronger connection with the body's signals and needs every day. The yoga program helps establish lifelong self-commitment and self-acceptance habits while keeping the body fit, lean, strong and agile.
Expiry: 8th, January 2011