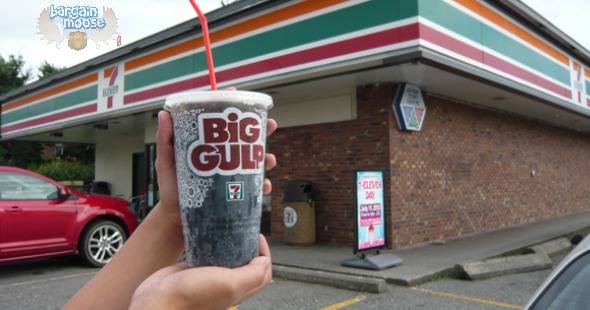 If you are passing by a 7-Eleven Canada store today, then don't miss this opportunity for their Free Friday offer. Today only,  you can redeem a free Big Gulp beverage of any size through the 7-Eleven mobile app at your closest 7-Eleven location.
The Big Gulp from 7-Eleven is great if you are super thirsty. It is even better that today you can get it for free by simply downloading the 7-Eleven Canada mobile app. The 7-Eleven app is available through the App Store and Google Play on both Apple and Android devices. It will take just a moment to download the app, and in exchange you will be able to redeem this freebie. Personally, I leave the app on my phone so I can redeem future freebie offers from 7-Eleven Canada without the wait.
Today's 7-Eleven Canada Free Day Friday offer will allow you to head into your local store and pick up a free Big Gulp beverage, while supplies last. From previous experience, I have found that my local 7-Eleven Canada store does not run out of their freebie Friday offers quickly, so hopefully you won't be left disappointed.
The Big Gulp is great except it never fits in the cup holder of my car. 7-Eleven Canada even offers refillable cups or mugs, but they are not included in this offer. You will find many interesting flavours, hopefully you love it. You can even mix as many flavours into one cup as you like, for a unique taste.
There are also other offers available through the 7-Eleven Canada app. These offers will vary depending on your location, but usually you can find offers like buy 1 get 1 free and more. To see if your local 7-Eleven Canada has your desired offer, just click the savings. You will then be directed to your local 7-Eleven store.
(Expiry: 1st May 2015)