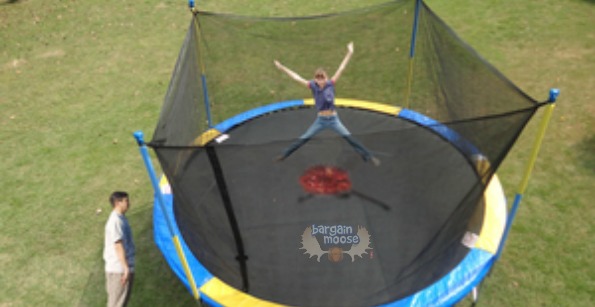 Get the Trainor Sports 14' trampoline and enclosure from Walmart for $110 off, paying only $248.
You might wonder what you'll do with a trampoline at this time of year, but it really pays to shop ahead because you'll save about a third of the purchase price of this model. This is the exact trampoline that I have (mine might be the 16') and we've had absolutely no problems with it. The kids use it often and love it. A lot of their friends come over to jump on it with them and even my dog gets into it.
We had planned on buying a really expensive trampoline that was said to be the safest out there, but decided to only spend $400 vs. over $1000 for a smaller one. This one has seemed to do its duty. We don't use the flash zone because I think that is a wasteful feature, but otherwise, it was easy to assemble and will probably last us at least a few years. If you don't believe me, read the glowing reviews.
Even though this is a fairly large object, shipping is free!
(Expiry: Unknown)