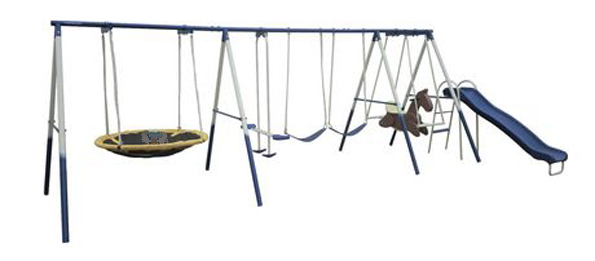 If you've been looking for a decent swing set for a reasonable price, your search may be over. WalMart is currently having a clearance sale on their Super Fun 8 Station Swing set, which you can now get for $200. It normally retails for $298, and a similar set actually costs $355.50 US (plus a whopping $76.99 for shipping) on Amazon's American website. What makes this deal at WalMart especially enticing is the fact that you'll also get free shipping!
Like its name implies, the Super Fun 8 Station Swing Set is meant to be used by up to 8 children at a time. The size of this set is  214.5" x 102.25" x 72.25", and it can withstand up to 800 lbs in total. The Super Fun 8 Station Swing Set includes a glide rider, flying saucer, two swing seats, a rocking horse, and a 6ft wavy slide. You can see more details about this product by clicking here.
When I was a young child, my neighbour had a decent swing set. It had 2 swings, a slide, and a rocking horse, and that was all we needed to have a good time. It encouraged us to be active, and let's be honest - being on a swing today is almost as fun as it was when I was a kid (as long as I can find a swing that's big and sturdy enough to support me)!
This set has a myriad of goodies that will certainly keep many kids satisfied and entertained. Even though it's starting to get colder now, this set would be great to assemble when we see the Spring season again!
I've included a brief review of this Super Fun 8 Station Swing Set from a satisfied WalMart customer below:
We bought this swing set for our grand kids they love it ! It went together quickly and easily . It came very quickly and the delivery service called ahead of time to help with the ease of the delivery .
This likely won't be in stock for very long, so check it out now before it's gone. Happy hunting, Bargainmoosers!
(Expiry: Unknown)