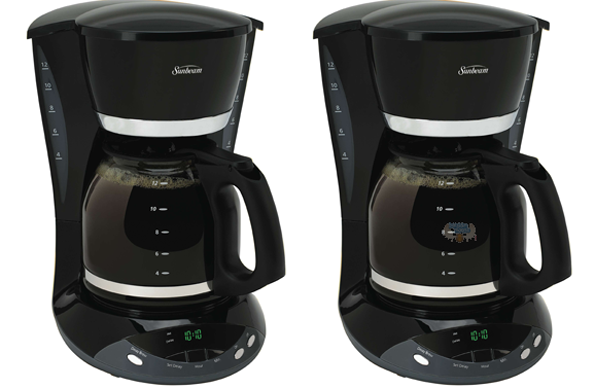 Good morning, everyone! When you rolled out of bed this morning, did you enjoy a nice, hot cup of coffee before you fully woke up? If you're a coffee connoisseur, but you don't have a way to make it at home, then this deal at WalMart just might intrigue you! In fact, WalMart currently has this Sunbeam 12 Cup Coffee Maker on clearance - it normally retails for $34.96, but you can get it now for only $15! You'll also get free shipping with your order, which is always a nice bonus!
This Sunbeam 12 Cup Coffee Maker is a sleek machine that also has a 2-hour auto-shut-off feature. It's easy to clean, and can help those who love their early morning coffees start their day the right way!
At this time, I currently have 3 coffee machines. 2 years ago, I didn't have any. I think this might mean that I have a problem!
In reality, I would occasionally have coffee in the past. When I'd see those early morning traffic jams caused by the Tim Hortons drive-thru, I wanted to stay as far away as possible! However, once I got a discounted Nestle Dolce Gusto machine, I started to really embrace having a coffee more often. I may not have one every day, but I'll at least have 4 coffees a week.
It's not just about staying alert, either. I have particularly grown fond of dark roast coffees (I do enjoy my dark beers as well, so that may have something to do with it). Then again, my father did have an authentic Espresso machine when I was  a child (it eventually broke down after roughly 14 years of being used on a daily basis), so those Espresso was what I thought all coffee tasted like.
If you were to purchase this Sunbeam 12 Cup Coffee Maker from Sunbeam's website, it would cost you $34.99. Sears is also selling a similar Sunbeam 12 Cup Coffee Maker for $39.99. I've included a brief review of this coffee maker from a satisfied WalMart customer below:
This is an excellent product, I have 2 of them and use both regularly. I purchased this new one as a gift because it has all the features needed, at a very good price.
Since this item's on clearance, it won't be around for very long! Happy hunting, Bargainmoosers!
(Expiry: Unknown)