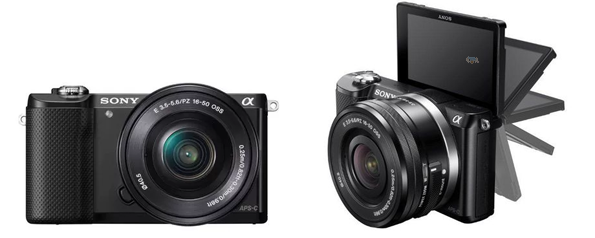 Hey there, my fellow deal hunters! WalMart is currently having a notable sale on their Sony a5000 Mirrorless Camera with 16-50mm Lens today, and it's bound to get some attention. Before this high-end camera sells out, I wanted to bring it to the attention of my fellow Bargainmoosers, so you can all get the opportunity to check out this deal - especially if you know someone who takes their photography seriously. This Sony a5000 Mirrorless Camera With 16-50mm Lens normally sells for $498, but you can now purchase this 20.1 MP camera for $348! That's a whopping $150 off the regular price! You'll also get free shipping with your order, which is another great bonus!
This Sony a5000 Mirrorless Camera with 16-50mm Lens is packed with a myriad of different features that will make your point-and-shoot experience that much more convenient. This mirrorless camera has a 20.1 MP Exmor® HD APS sensor, so you'll be able to take DSLR-quality images, and be able to take high resolution pictures even when the environment around you is "less than ideal" - in other words, those shots that you take when there's low light will look that much better with this camera.
This high-end Sony camera also has full HD capabilities, so you could also record 1080/60i/24p or 1080/30p videos. This Sony a5000 Mirrorless Camera with 16-50mm Lens literally has tons of useful features, and you could check them all out by clicking here.
If you wanted to buy this Sony a5000 Mirrorless Camera with 16-50mm Lens from Future Shop or Best Buy today, it's currently on sale for $429.99. I've included a snippet of a review of this premium camera from a satisfied Best Buy customer below:
I've had this camera for a week and a bit now and overall I like it.
Short, sweet, and to the point. If you love photography, or if you know a special someone that loves using their camera, then you need to check out this deal today. I hope you all have  a great day today!
(Expiry: Unknown)