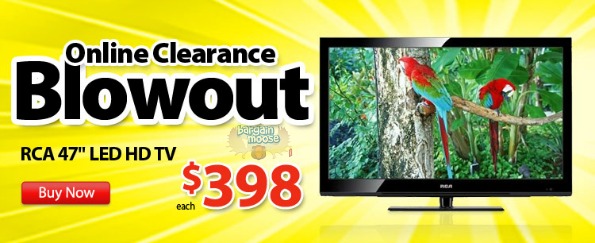 Get this RCA 47" LED HD TV on clearance at Walmart Canada for only $398 with free shipping!
So we don`t exactly know what the original price of this TV was because Walmart fails to keep the original price on the website and rather just shows the current price. However, they are advertising this as a blowout clearance product and I have never seen a RCA 47" on sale for less than $400 before so this is certainly a great deal. What makes it even better is the free shipping policy which will see this large fragile item shipped to your home free of charge. There is no need for you to go in store to try and pick it up.
So far the TV has received very positive reviews. The reviews seem to agree that though this is obviously not a high end HDTV it is excellent quality for the price.The latest review, from April, had this to say:
Color and clarity are fabulous! Sound is ok but with my surround sound system, I now have an amazing home theatre!
Everyone so far has been very happy with their TV and I hope, if any Moosers get this deal, that they are really happy with it as well.
(Expiry: Unknown)