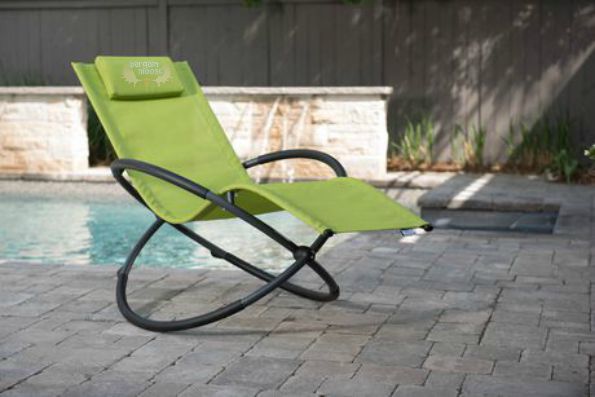 Walmart has a fantastic deal on today that will have you resting peacefully on your back deck by the end of the weekend. The orbital lounger is now only $75 and will ship for free. While Walmart does not list a regular price, I was able to do some digging and found out that they have sold it for $158. Prices at other stores confirm the regular price is around this much as well.
This chair looks too cool! It is a lounge chair that allows you rest ergonomically by the pool, on your patio and more. Its fun looking design will also definitely have your friends talking. This chair is actually made by Vivere and I recently bought the dream chair by them at a local greenhouse. I see they have some colours on sale for only $200 and it would have been nice to get it at that price, although I of course got a deal on it when I bought it too. I find my dream chair incredibly comfortable and I tell the kids, this is only a Mommy chair, no kids allowed! But, that's because I really don't want a $200+ chair getting wrecked.
Spending only $75 on an Orbital chair, I can actually let my spawn relax as well, although I can totally see them thinking this chair would make a fun futuristic vehicle to play on. The chair comes in blue, green, red and silver although the blue and silver look more turquoise and black to me.
I checked on prices around the web on this chair and you'll get it 50% cheaper at Walmart. Sears sells it for $159.99. Lowessells this chair for $141.
I couldn't find any reviews on either site, but I think this is a solid deal for a unqiue chair for your backyard. I love a comfortable spot to read a book under the sun.
Walmart will ship this for free (I checked) and it says the delivery date will be on Tuesday, which is pretty fast considering we've got a long weekend ahead of us.
(Expiry: Unknown)