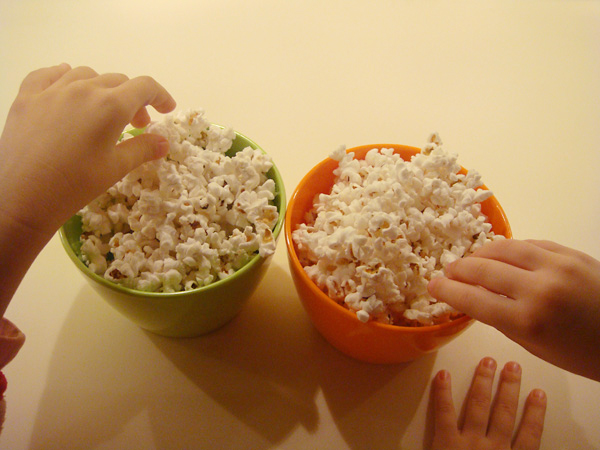 Walmart is having a huge clearance extravaganza with some very hot deals and Avigayil and Kristy have already mentioned a couple to you. Another I found was this 59" tall vendor-style Nostalgia popcorn machine. It was regularly $199.97 and now only $89 with free shipping (since you are more than the $50 minimum).
This large novelty item would make the perfect addition to a theatre room, man cave or even in your kitchen as a kitschy, but useful decor item. At the $200 price point, most people probably wouldn't want to take the plunge on something that just makes popcorn. As much as I adore popcorn, I'm not going to spend that much to invest in a machine to make it (unless Channing Tatum was manning it). But, at only $89, this is a no-brainer. My kids will love this machine and beg for me to make popcorn for them and their thousands of friends who take up squatting rights on my trampoline all weekend.
I think this would also be great for a school or other non-profit for fundraising efforts. I have a friend who had a similar machine, although it wasn't as portable with wheels like this one. She often lent it out for events like fun fairs so they could sell popcorn, which is super cheap to make and always a huge seller. This would also make a great silent auction donation.
You can make 32 cups of popcorn in one batch, and it looks very simple. Have this by the pool beside your blender and you've got the perfect summer afternoon.
With five 5-star reviews, others really enjoy this machine:
To my pleasant surprise this model (CCP-600) now comes with an 8 oz kettle! To top it all off, I was expecting plexiglass windows and a platic tray, but it's real tempered glass and a metal tray. Looks like a unit that costs hundreds of dollars more. EXCELLENT bang for the buck, get it now before a weaker Canadian dollar makes this more expensive.
Interesting enough, most of the reviewers thought that $200 was an amazing price point, so getting this for only $89 is pretty much mind-blowing! And, they are right, I found this machine for much more money in the U.S. and even smaller machines for more.
Photo credit: Aspa
(Expiry: Unknown)