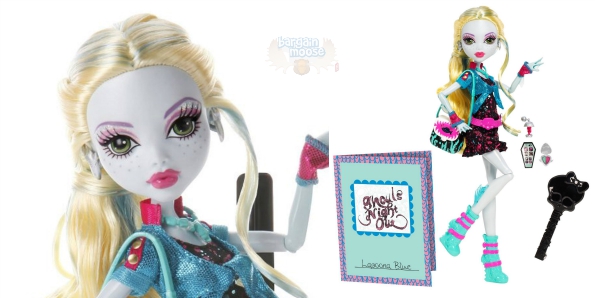 Walmart Canada has a sweet sale on a small selection of Monster High Dolls. The best deal is on the Monster High Ghouls Night Out Doll - Lagoona Blue Doll on sale from $25 down to $10. You can get this doll shipped to your local Canada Post outlet for free. There are also a few other dolls on sale for 50% off - $29.95 down to $15 - that I mention below so read on!
I own this doll - I actually bought her used but in good condition. I adore her face (it is so incredibly cute) and I love all her fish features like transparent fins on her legs and arms. She is one of the cutest dolls ever and I am so happy that she is one of the four that I own. Of course, my doll has been loved up a bit so I am highly tempted to upgrade to a 'new' model just because I like her so.
This doll has lots of fun accessories including the coolest purse ever that ties her entire outfit together. Three little accessories including a cell phone and makeup compact fit inside the purse for easy storage. As per usual, she comes with a stand. One reviewer said:
This line is just gorgeous. The dolls themselves are beautiful, and they all come with such neat little accessories. My favourite is Lagoona's little shark perfume! These are selling for around $30 everywhere, so $10 is an insane price for them, especially since they haven't been out too long.
I have to agree, this is an insane price and thus stock is already limited. The same doll costs $24.99 @ Amazon Canada.
Now, you will also want to check out two other deals. Monster High Ghouls! Alive Dolls - Toralei is on sale from $29.95 down to just $15. It is rare to see dolls under the $19 range, thus this is a good price. This little cutie is all cat!
If you need to add a boy to your Monster high doll collection, then you need to pick up Monster High Ghouls Alive! Deuce Gorgon Doll. He is on sale from $29.95 down to $15 as well.
Back to the females, you need to add Monster High Ghoul's Alive! Clawdeen Wolf Doll to your order. This doll was $29.94 and is now only $15. I don't know if it is just me, but Spectra looks 'older' than my other dolls. She is sort of like a big sister.
Lastly, Monster High Scaris Skelita Calaveras Doll is on sale from $29.94 down to $15. She is a really cool doll with makeup like a sugar skull and body of a skeleton.
(Expiry: unknown)