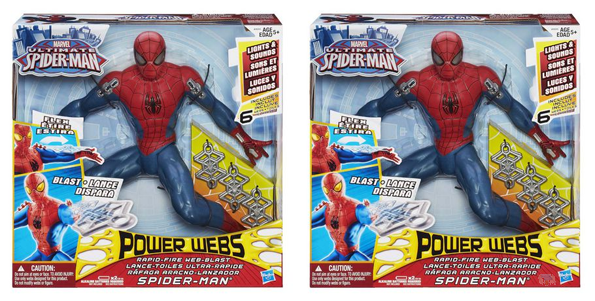 Hey there, Bargainmoosers! If you know someone that's a huge Spider-Man fan, then you should definitely check out today's clearance deal at WalMart. Normally retailing at $38.92, you can now purchase a Marvel Ultimate Spider-Man Rapid-Fire Web-Blast Figure for just $20! This is one huge action figure, so this is a great deal. You'll also get free shipping with your order!
This Marvel Ultimate Spider-Man Rapid-Fire Web-Blast Figure can launch up to 6 webs, and they can shoot up to 20 feet! That's pretty impressive - I wish the Spider-Man toys I had when I was a kid were that cool! This huge action figure also lights up and can produce some cool sounds. This may not be available for very long, so check out this deal before it's too late.
I was always a fan of Spider-Man. I even used to watch the old cartoon from the 60's (mainly just so I can see the opening montage and listen to the song). You know the one - Spider-Man, Spider-Man, does whatever a spider can. Eventually, I kind of forgot about ol' Spidey until the first movie that starred Tobey McGuire was released (it was called Spider-man. How clever). That was a great movie for the time, and I think it still holds up today. After all, how can you not enjoy a movie that has the late great Macho Man Randy Savage in it? Bonesaw McGraw, digit!
If you were to purchase this Marvel Ultimate Spider-Man Rapid-Fire Web-Blast Figure on Amazon, it would cost you $49.99. I've included a brief review of this action figure from a satisfied Amazon customer below:
My 5 year old got this for his birthday. It was very well made and you can tell it will last a long time. His eyes light up and his webs go a long way. It is his all time favorite toy. Your child will be very happy if you buy this.
I hope you all enjoy your Monday, my fellow Bargainmoosers!
(Expiry: Unknown)