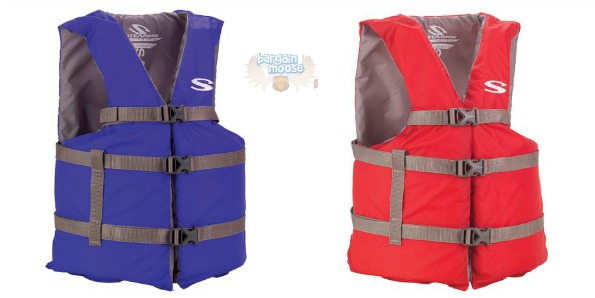 Are you heading out to the lake this summer? Be sure to pack life jackets for the family. Walmart Canada has discounted both children and adult life jacket vests from $21.97 down to $17.94.
These life jacket vests are your basic vests with a PE foam inner and a nylon outer shell. Whether you are purchasing the child model or the adult model, they both feature three adjustable straps for adjusting to the appropriate size. They are also all Transport Canada and Canadian Coast Guard Approved.
Pick up either the Youth Nylon PFD - Orange or the Youth Nylon PFD - Blue for your child. Both life vests feature a grab handle for retrieving a wandering child. They are designed for children that weigh between 60 to 90 lbs. Originally $21.97, they are each on sale for just $17.94.
The adult version is the same price as the children's version: only $17.94 on rollback. You can purchase either the Adult Nylon PFD - Blue or the Adult Nylon PFD - Red depending on your colour preference or if you want to distinguish ownership based on colour. Unlike the children's version, it does not come with a grab handle and it does not have a weight restriction. Rather, the adult version is an open sided vest designed as a one size fits all. Just adjust the three straps to achieve the best fit on your body.
If you are going boating, canoeing, kayaking, rafting, or any other water sport on either lakes, rivers, or the ocean this summer; then it is important to have the proper safety precautions in place. All children should wear life vests on the open water, even if they can swim. When panic sets in we often forget the skills we learned in the safety of a chlorinated pool. Life jacket vests are also a good idea for adults whether they know how to swim or not. I can comfortably swim 1k on a good day in my local pool, but when I went white water rafting, I still wore a life vest.
These life vests appear to be selling well as most the locations around my home are either out of stock or low on stock. You can pick these up in your local store if you are in a rush, or just get Walmart Canada to ship them to your home for free at the click of a button.
(Expiry: unknown)