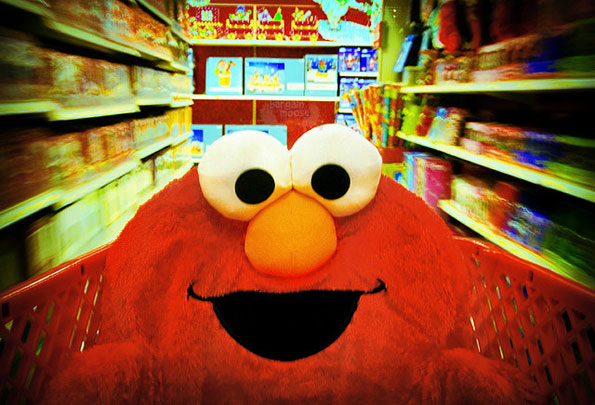 *BUMP! This toy is back at an incredibly low price!!*
Still shopping for Christmas presents for your little one(s)? Then check out this deal on the Playskool Sesame Street Let's Imagine Elmo toy: it's now just $33.94 $8 at Walmart. It was originally priced at $49.94.
Unlike the other versions of the Elmo toy, this one is particularly cool because depending on the hat that is put on his head, this Elmo will say and do different things.
Captain Elmo sings and asks kids to identify different sounds of the sea. After playing seagull sounds, for instance, Elmo will ask kids to identify the kind of bird it is and how many time the sound is heard.
Cowboy Elmo teaches kids to count from one all the way up to twenty. After he has finished counting, he sings a song for kids to sing along with.
Prince Elmo is the playful version as he plays a game of "Elmo Says". He might say things like "bounce Elmo" and kids would need to bounce him up and down. Other command include but are not limited to tickling, hugging him, and so on.
It's recommended for kids ages 3 to 5, but here's what one reviewer had to say about it:
We were a Walmart toy testing family. My 2 year old son went straight to this toy out of everything available and played with him for 45 minutes of the 2 hours we were at the event. I had to pull him away to try other toys. He carried, hugged and kissed Elmo. The different interactions you get depending on which hat is on kept his attention. This toy will be waiting under the Christmas tree for my little guy.
My little munchkin is less than a year but I'm still tempted to get this now for a couple of reasons with the main one being the discount... getting things ahead of time is always the best way to save in the long term! Also, she may be too young to understand the different characters but I'm sure she would enjoy all the songs and the way this toy moves around.
Walmart also offers absolutely free shipping on orders over $50, but you could always have it shipped to your local Canada Post Office for totally free as well. Some Walmart Canada stores even have Grab & Go Lockers which are also a free option.
(Image Credit: Clickr Bee)
(Expiry: Unknown)