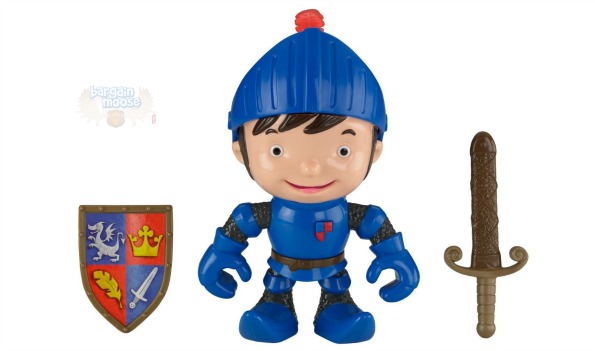 This Interactive Mike the Knight Figure is on sale from $24.97 down to $10, at Walmart Canada. All orders from Walmart Canada receive free shipping.
Price comparing this toy was nearly impossible. Toys R Us, Amazon Canada, and Sears Canada do not carry the toy. I did find the toy in the USA at Amazon.com. There it had an original retail price of $20 and was on sale for $12.25 US = $15.35 CA. While this is hardly a fair comparison (shipping and duty would come into play), it does give you some context.
Mike the Knight is pretty popular among young kids (about two to five years old) right now. This Mike the Knight Figure talks to your child so they can hear popular sounds and phrases from the show. This little knight in training is sure to please your young one while they play. As one reviewer said:
I bought it for my son birthday ( 3years) who loves mike the knight the toy has many sounds , of the tv show, he takes him everywhere great toy
This toy is versatile. Not only does it speak, but Mike the Knight has articulated shoulder joints and can pivot at the waist. The toy includes a sword and shield for pretend play. Activate Mike by pressing the shield button on his chest. Hoe comes with over 20 sounds and phrases. Some of them your child will know from the show, like "It's time to be a knight and do it right!" Other phrases encourage your child, like "You would make a great knight!"
This toy is for ages two and up but age often depends on development stage so you are always the best judge as to whether your child is ready for this sort of toy.
I think this is a great toy for a great price! It satisfies tactile and auditory play while still being great for playing out stories with the sword and shield. While this is not the most articulated toy, it has enough movement to satisfy young customers.
(Expiry: unknown)