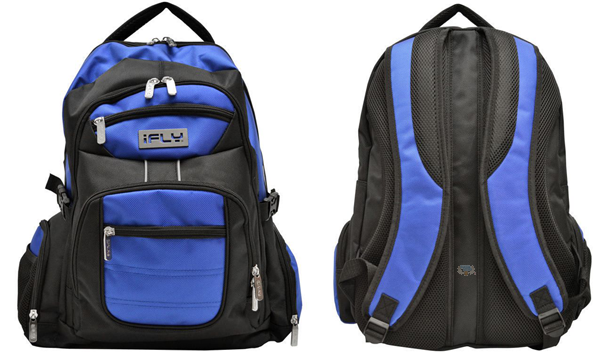 Hey Bargainmoosers - I just found another decent clearance deal at WalMart! It's for an iFLY 21" Expert Deluxe Backpack, which normally retails for $35. You can now purchase this nice backpack for only $10! If you have a child that hasn't been very happy with their backpack during the past month, this may be the perfect replacement! You'll also get free shipping!
This iFLY 21" Expert Deluxe Backpack has plenty of room, and can also be suitable for adults that need to carry their belongings and documents (or even their laptop) while they're out and about. With its extra thick mesh padded back, you can comfortably carry this backpack with you wherever you go!
Having a reliable backpack can really be beneficial. After all, can you remember how heavy some of those text books from school were? When you're lugging those books around after a long day at school, it's important to have a backpack that can properly support it. Unfortunately, I usually had cheap backpacks that I got from discount stores like BiWay (ahh... sweet memories) back when I was a younger student.
Those backpacks just never lasted - they'd usually last half a year until they started to show heavy signs of wear and tear. This iFLY 21" Expert Deluxe Backpack looks like it's ready to carry your belongings without any issues. You can currently find similar iFLY 21" backpacks at Future Shop and Best Buy for $25.99.
Listed below is a brief review of a similar iFLY 21" Backpack from a satisfied Future Shop customer:
Its exactly what I needed to go backpacking with only a carry on at hand. It fits all the cabin bag restriction of airlines around the world, especially the budget airlines!
If you need a new backpack, you can't go wrong for $10. Have a great day, Bargainmoosers!
(Expiry: Unknown)