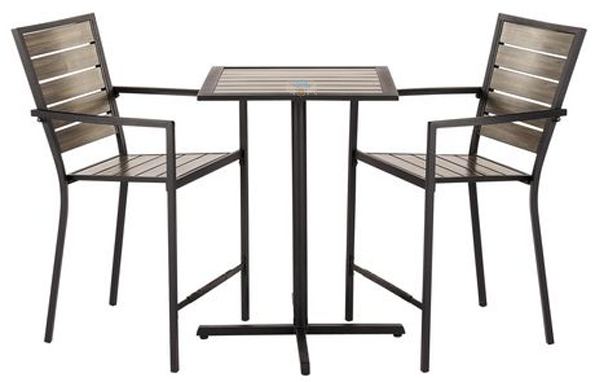 For those that want, need, or crave a new bistro set, keep reading this article. WalMart is currently having a clearance sale on their Hometrends Maygrove 3-Piece Endurowood Balcony Dining Set - it normally retails for $184, but you can now get this 10-piece patio set for only $100! That's right - you're saving $84 with this deal! Best of all, you'll also get free shipping!
The Hometrends Maygrove 3-Piece Endurowood Balcony Dining Set is perfect for your patio, balcony, or backyard. With this set, you'll get 2 chairs and one table. It has a great faux wood appearance, and is constructed with heavy-duty steel. You can learn more about this balcony dining set by clicking on the link above.
This looks like a very nice little bistro set. It has everything you'd need to relax on your balcony, and I'm considering picking this up for my condo (it would be great for the balcony). When I visit my brother, it's nice to be able to have a meal outdoors when he has multiple visitors, thanks to his patio set. However, when you're living in an apartment building, these bistro sets are perfect for those mornings where you want to have a nice breakfast on your balcony. It's a great way to start your day!
If you were to purchase a 3-piece aluminum bistro set from Wayfair, it would cost you $149.65. Lowes also has a 3-piece bistro set for $167. I've included a brief review of this Hometrends Maygrove 3-Piece Endurowood Balcony Dining Set from a satisfied WalMart customer below:
Well made and great quality. Great price and quick delivery. Great online shopping experience.
If you're looking for a nice balcony dining set that won't break the bank, you should consider checking out this deal. Happy hunting, Bargainmoosers!
(Expiry: Unknown)