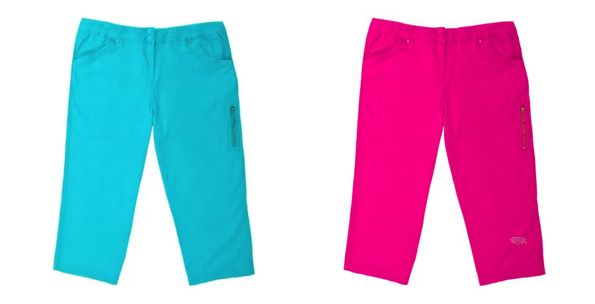 Good afternoon, my fellow deal hunters! WalMart is always making a splash with their clearance sales, and this one is no exception. You can now purchase a pair of George Women's Comfort Capri Pants for only $5! These normally cost $18, so you're saving $13 on each pair with this clearance deal! You'll also get free shipping with your order!
These George Women's Comfort Capri Pants won't be in-stock for very long, so I highly recommend that you look for your size now before it's gone! There are several vibrant colours that you can choose from, including French blue, hot pink, teal, and black (well, black isn't as vibrant and bright as the other colours, but it is a necessary option). Plus, you can always find a good use for extra clothes!
You can't go wrong with a few extra pairs of Capri pants. When they're only $5 each, it's hard to not take advantage of such a deal! You can find many great uses for extra Capri pants - you can have some extra pairs to wear around your home, or when you're doing things like painting. If you accidentally spill something on these Capris, you can take solace in the fact that you only spent $5 on them!
These Capri pants normally cost $18 at WalMart, so this is one spicy deal! Listed below is a brief review of these George Women's Comfort Capri Pants from a satisfied WalMart customer:
I purchased three different coloured pairs of these capris as they are extremely comfortable and fit nicely.
Before these Capris are gone, you should check out this deal. I hope you all have a great Wednesday!
(Expiry: Unknown)