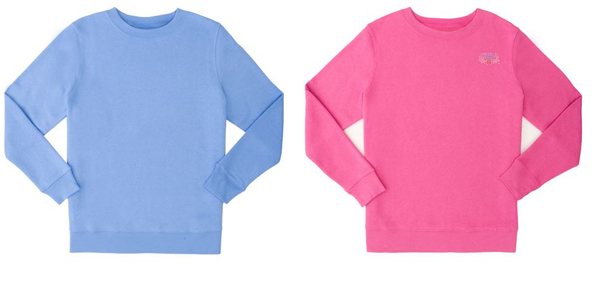 WalMart is at it again - they're providing us with some amazing clearance deals! Now that the weather is starting to get a little chilly and we're nearing the end of October, it might be time to start preparing for colder weather conditions (I refuse to say that 6-letter word that starts with a "w" and ends in an "r"). Well, WalMart is currently having a clearance sale on some of their George Classics Fleece Tops for women, which you can now buy for just $3 each! These previously retailed for $10 each, so you're saving 70% with this deal! Best of all, you'll also get free shipping with your order.
These crewneck fleece tops for women are 72% Cotton and 28% polyester, and have an easy pull-over style. You can choose from a wide variety of different colours and sizes, including pink, blue, red, and light blue. For $3 (plus free shipping), this is a huge bargain!
It always helps to have a few extra tops to wear. Since this is such a cheap price, you can pick up some fleece tops that you can use whenever you're planning to eat somewhere messy (I have a terrible habit of getting some food or sauce on my clothes when I'm at an all-you-can-eat buffet... those chicken balls filled with sweet and sour sauce can get slippery). Or you can bring some of these affordable fleece tops with you when you're embarking on a road trip or a vacation - if you lose them, you wouldn't have to worry too much (after all, they were only $3).
The George brand is exclusive to WalMart. Similar fleece tops are currently on sale at Old Navy for $11.99. I've included a brief review of these fleece tops for women from a satisfied WalMart customer below:
I bought this a month ago, and it's soft and warm. I recommended these tops to my friends.
Since these are on clearance, they may not be in stock for very long! I hope you all enjoy the rest of your Thursday, my fellow Bargainmoosers!
(Expiry: Unknown)