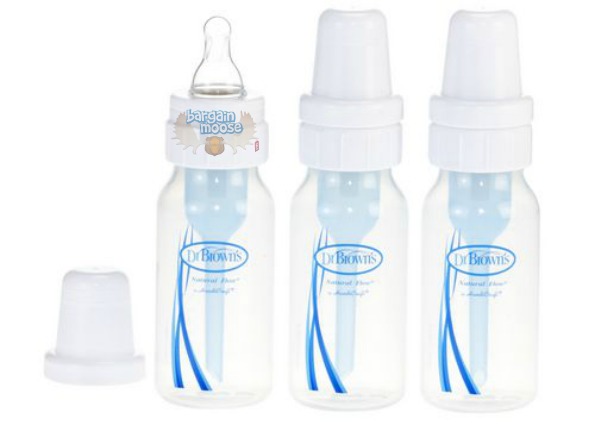 With another Walmart deal that I believe will sell out quick, may I present to you a three-pack of Dr. Brown's 4oz standard bottles for only $15, with a regular price of $24.97. These will also ship for free.
While I didn't use too many bottles in my time with babies, I don't know too much about these bottles except what I've read online. And what I've read online is quite good. Reviewers say these bottles are amazing for babies with colic or other digestion issues. They are also great for breastfed babies who don't want to accept a bottle. This is because of an internal vent system that creates positive pressure flow that is similar to breastfeeding. As the baby eats, air is channelled from the nipple collar through the vent system to the back of the bottle, which means your baby gets less air in its milk. It is also BPA, PVC, lead and phthalate free.
I know many a Mom who was interested in weaning her baby, only to have trouble because no baby wants plastic over Mom. But sometimes you really need to get out, go back to work or just take a break and you want that baby to have a bottle. I remember the year of pretty much never leaving any of my baby's sides, because they only wanted Mom for food. It is good to know there are bottles out there that can help this happen and at such a good price!
(Expiry: Unknown)